Pettitte returning to Yankees for one year at about $11M; Rivera likely to follow
Andy Pettitte's deal with the Yankees is expected to be for about $11 million.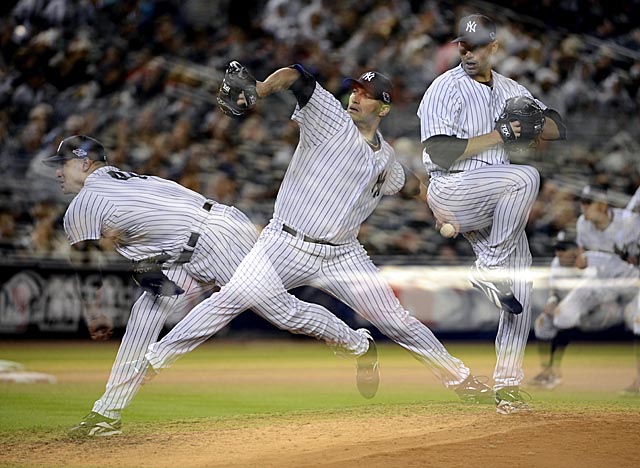 Pettitte helps solidify a Yankees rotation already stocked with CC Sabathia, Hiroki Kuroda and Phil Hughes. (US Presswire)
Andy Pettitte and the Yankees are finalizing an agreement for one year at about $11 million for him to return to the Bronx, and the team is optimistic it will have a deal with Mariano Rivera by week's end.
Pettitte decided within the last couple of days he would return, and a deal would be announced within a few days. He suggested at the end of the season he would likely pitch again, but the Yankees hadn't heard from him until the past couple of days.
The Yankees' moves to return two of their "Core Four" come right before next week's winter meetings, and clears up their needs.
Pettitte gets a raise from the $2.5 million guarantee he made last year when he didn't decide to pitch until spring training. He finished 5-4 with a 2.87 ERA.
Rivera, who missed most of 2012 with a knee injury, is expected to receive similar pay. For him, it would represent a slight pay cut, as he made $15 million in 2012.
The Bombers are also talking to Ichiro Suzuki and Russell Martin about possibly returning, but Martin at least figures to be pursued by other clubs.
Our Black Friday FA shopping guide includes a starting pitcher, slugger, super sub, and re...

Get 15 percent off any order of more than $75 at CBS Sports Shop

Need a gift for someone who loves baseball? We're here to help as the holidays approach
Several prominent Japanese-born Mariners and ex-Mariners have said they will help as well

Get your sports fans something that they'll wear all year

No, you're not imagining things. This MLB offseason has been very slow compared to the last...