Phil Mickelson to join group bidding for ownership of Padres
San Diego native Phil Mickelson has joined a group bidding for his hometown Padres. Mickelson said he is putting up "a lot" of his own money to join the group headed by former Dodgers owner Peter O'Malley.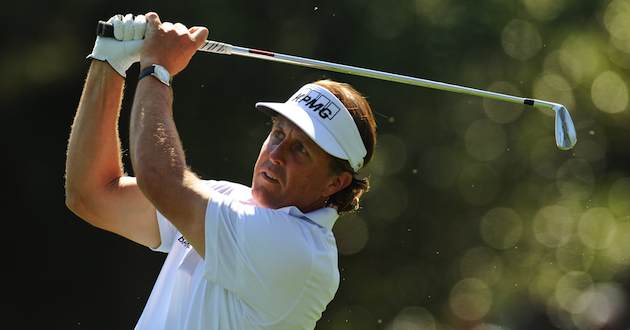 Padres legend Tony Gwynn recently backed one bidder for the Padres and now another big name, Phil Mickelson, is looking to get involved with a different potential Padres ownership group. He has has joined the group headed by former Dodgers owner Peter O'Malley,
he told the San Diego Union-Tribune
.
Mickelson, a San Diego native, told the newspaper that he'd turned down previous gestures to get involved in a pro sports ownership group but liked that the O'Malley bid featured someone who had owned a team before. Mickelson also said he'd put "a lot" of his own money into the group, so he'd be more than a mascot for the deal.
"This was a unique opportunity with families that had done this before and know how to do it right and want to get involved in the community," Mickelson
told the newspaper
.
While Peter O'Malley is the face of the group, he said his sons, Kevin and Brian, along with their cousins Peter and Tom Seidler, would run the team.
Gwynn backed Thomas Tull last week, but Mickelson said there would be room for the Hall of Famer if the O'Malley group won the bidding for the team.
"If we were able to get control, [Gwynn] would be the first person we'd want to get involved," Mickelson
told Tim Sullivan of the U-T
. "He's such an icon with the team. Hopefully, it won't be combative."
Mickelson gives the O'Malley group some local ties to San Diego.
"When we met with Phil we were inspired by his commitment to San Diego and his passion for the Padres," Kevin O'Malley said in a statement to the
Union-Tribune.
"He is a world-class person, athlete and businessman with a strong history of charitable leadership and he will be an ideal partner for many years in San Diego."

Maxwell joins a growing movement across sports

The Yankees punched their ticket to the playoffs with a win over the Blue Jays on Saturday

Sabathia's stance seems to be an increasingly popular one among athletes
Plus the A's and Brewers have hope, Giancarlo goes deep again, and much more

Matt Chapman and Matt Olson give the A's hope

Despite an awful month, the Dodgers are again NL West champions