Phillies acknowledge role in Ben Wetzler investigation
The Phillies aren't saying much about the NCAA investigation into Oregon State's Ben Wetzler, but they are acknowledging they were part of it.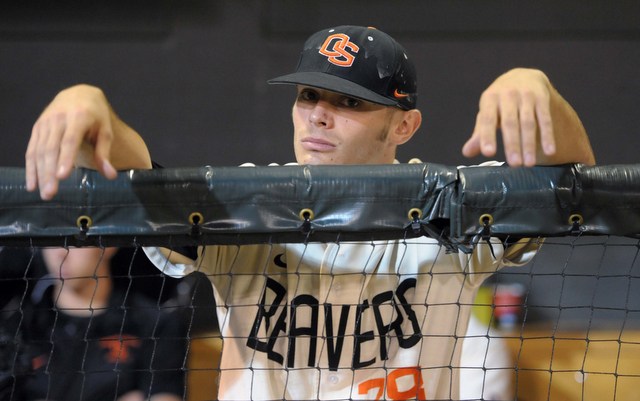 MORE: Blowback on Phillies has begun
To recap, the Phillies last year took Oregon State lefty Ben Wetzler in the fifth round. Wetzler, then a junior, decided not to sign and instead returned to OSU for his senior campaign. Then the Phillies, according to a report by Baseball America's Aaron Fitt, turned Wetzler in to the NCAA for using an agent in their negotiations. Wetzler was subsequently suspended for 20 percent of the 2014 season. 
According to patently ridiculous NCAA rules, college players are allowed to use "advisors," which are very often agents, but those agents cannot directly negotiate a signing bonus for the player. It's an unwritten rule that agents will have involvement over and above what the NCAA would prefer, but this is an accepted part of doing business.
Unless you're the Phillies, that is. Here's the tersely worded statement that the Phillies released on Saturday morning:
"The Phillies did participate in the NCAA investigation and a ruling has been issued. We believe it is inappropriate to comment further on either the negotiation with the player or the action taken by the NCAA."
By the sounds of it, that's as much as you're going to hear from the Phillies on this matter. That's understandable, since there's absolutely no justifying what they did. And what they did was mess with a young man's career and education, presumably in a juvenile fit of pique. 
The question remains: What's the upside for the Phillies here? The practice of using agents in something less than a sanctioned manner will continue, and if anything they've made a number of advisors and college programs less likely to cooperate with them in the future. 
This is a pretty pitiful organization top to bottom these days, and now that indictment absolutely extends to the amateur scouting department. Bad show, Phillies. 
The child is receiving medical attention at an area hospital, the Yankees said in a statem...

Brantley has not played since August 8 due to an ankle injury

Plus the Red Sox can lock down a postseason spot and all you need to know from the world of...
Neshek called Greinke an 'ahole' and a 'turd' on a message board

Ausmus' job security has been in question for years now

Sano has been out with a stress reaction in his left shin since Aug. 19