Phillies bring Larry Bowa and Pete Mackanin back as coaches
The Phillies have brought Larry Bowa back for a fourth stint with the team, this time as bench coach. Pete Mackanin returns as third base coach.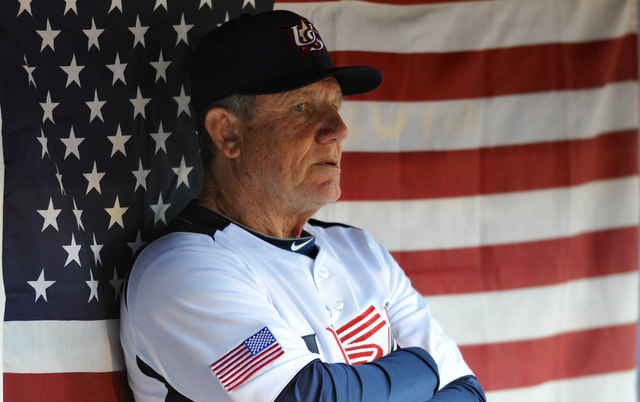 Former Phillies player, coach and manager Larry Bowa has returned to the team as their bench coach, the club announced. Pete Mackanin also rejoins the club as third base coach.
Bowa, 67, has been an analyst at MLB Network since 2011. He managed the Phillies from 2001-04 and was named the Manager of the Year in 2001. The team went 337-308 (.522) in his four years at the helm but never won an NL East title.
The Phillies removed the interim tag and named Ryne Sandberg their permanent manager a few weeks ago, and he said one of his first orders of business was to build a coaching staff. He and Bowa played together and are close friends. Sandberg replaced long-time skipper Charlie Manuel in August.
Bowa played 16 years in the big leagues as a slick-fielding shortstop, including 12 with the Phillies. This is his fourth tour of duty with the club. He has had some ugly break-ups with the team in the past, so Sandberg likely had to make a strong case to the front office to make it happen.
Bowa managed the Padres from 1987-88 and also coached for the Yankees and Dodgers in recent years. He was on the Team USA coaching staff for the World Baseball Classic last spring.
Mackanin served as the Phillies bench coach under Manuel from 2009-12. He also has scouting, coaching and managing experience with the Yankees, Reds, Expos and Pirates.
The Phillies are still without a pitching coach after incumbent Rich Dubee was allowed to leave following the expiration of his contract after the season.
The Grapefruit League and Cactus League seasons started on Friday

Data will be collected and then used to determine whether humidors are necessary in 2019

Spring training play began on Friday, and the Stoneman Douglas tragedy was on the mind of MLB...
Baseball players forced to take pictures usually lead to fun for all of us

One of the most celebrated programs in baseball is looking to continue its run

A closer look at the teams in the Cactus League and Grapefruit League