Phillies: Chase Utley's rehab has hit a 'plateau'
The Phillies have released a statement regarding second baseman Chase Utley, saying his rehab has hit a "plateau" and that Utley has left camp to visit a specialist.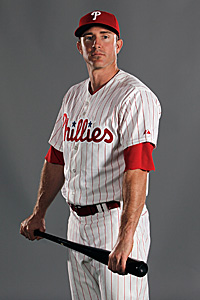 The Phillies have released a statement about second baseman
Chase Utley
-- who has yet to appear in a game this spring -- and it doesn't sound particularly confidence-inspiring.
Here it is, via general manager Ruben Amaro, Jr.:
"Chase's rehab process has come to a bit of a plateau. He has made some strides but not enough to take the field. He is headed out of town for a few days to be evaluated by a specialist that has helped athletes overcome his issue. We anticipate that this trip will allow him to build on what he has already done with Scott Sheridan in order to get over the hump. He wants more than anything to be on the field with his teammates and we believe that this is a step in that direction."
It's tough to draw a timetable from that vague update, but having to release a statement to let everyone know Utley is headed out of town to see a specialist can't exactly be construed as good news.
Unfortunately for Utley, it sounds like the knee injury that hampered him last season is going to linger for a while, perhaps for the rest of his career.
Last season, Utley didn't play for the Phillies until May 23. He hit .259/.344/.425 with 11 homers and 44 RBI in 103 games. He's now 33 years old.