Phillies desperately need change even though CEO says GM will return
Phillies interim CEO Pat Gillick says GM Ruben Amaro Jr. will "absolutely" remain with the team in 2015. They should be focusing on change, however.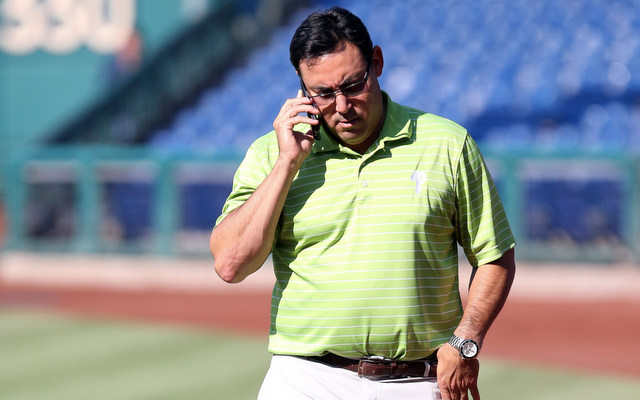 Just about any way you slice it, this has been a disaster season for the Phillies. They come into Tuesday at 63-74 -- 10 games back of a wild-card spot -- and are wasting excellent seasons from Cole Hamels, Jimmy Rollins and Chase Utley. Given their ages (both 35), it might be the last excellent season for both Rollins and Utley.
Philadelphia is on pace to win a game or two more than last season, when they went 73-89, but that shouldn't be misconstrued as progress. They spent decent money to bring in veterans Marlon Byrd, A.J. Burnett and Roberto Hernandez, but the return has been negligible. Attendance has fallen from 44,021 fans per game in 2012 to 37,190 in 2013 to 30,051 in 2014, according to Baseball Reference.
And yet, despite the franchise's downward trend, interim president and CEO Pat Gillick confirmed to Matt Gelb of the Philadelphia Inquirer that GM Ruben Amaro Jr. will "absolutely" return to the team next season. Gillick is filling in for team president David Montgomery, who is taking a leave of absence due to cancer treatment. Here's some more from Gillick, via Gelb:
"Ruben and I mutually agree on most decisions that we make," Gillick said. "Ruben is very inclusive on any decisions that we make for the ballclub. But right now if there's something I might have a different opinion, I'll certainly voice that opinion and we'll talk it through and try to make what we think is the correct decision.

"I would say if it comes down to the end, I have part of the final say. At this moment, I think ownership has a part of the say, too."
It's worth noting that Gillick, who served as the Phillies GM from 2005-08, had input into the hiring of Amaro as his replacement after deciding to retire. So of course he is going to continue to support the GM now. Amaro is Gillick's guy.
And that is part of the problem. Gillick, who is a Hall of Fame GM and a brilliant baseball man, may not be completely impartial when it comes to deciding Amaro's future. The Diamondbacks for example hired Tony La Russa to oversee their baseball operations even though he had no previous ties to the organization. Gillick's fingerprints are all over the Phillies, and that includes the guy running the front office.
Now, keeping Amaro is not a bad idea in and of itself. The path the franchise is on can not continue, however. They need to change more than personnel. They need to change their team building philosophy and begin to focus on building the core of the next great Phillies team. Will Utley and Rollins be part of that core? Very unlikely. Hamels? Possibly. Byrd and Burnett? Not a chance.
Changing the course of the team and reversing this downward trend will not be easy nor will it be pretty. I'd guess things will get worse before they get better no matter what. Keeping Byrd and other players at the trade deadline -- and then blaming other GMs for the inactivity -- was difficult to understand and that's the kind of stuff that will prevent the franchise from turning things around sooner rather than later.
The Phillies are not in a good place right now and, as the GM, that falls at the feet of Amaro. Gillick's quote could be the dreaded vote of confidence or he could be totally sincere. Either way, things need to change in Philadelphia, and it's difficult to see Amaro as the guy who can lead that turn around. Until the Phillies change the way they do business, they'll keep spinning their weeks near the NL East basement.
Jays have said goodbye to Encarnacion and will to Bautista. Should they move on from Donaldson,...

Judge's big September means Jose Altuve has some serious competition for the award

Goldschmidt? Rendon? Blackmon? Stanton if he hits 62 HR? Who would be your pick?
Bruce Maxwell of the A's has been kneeling during the national anthem

Iowa and Missouri are two programs mixing technology and analytics

Sunday's MLB roundup features the D-Backs clinching a postseason spot and the Mariners going...