Phillies GM Ruben Amaro Jr. questions Delmon Young's defense
Phillies GM Ruben Amaro Jr. questioned outfielder Delmon Young's defense on Sunday, three months after signing him to a guaranteed contract.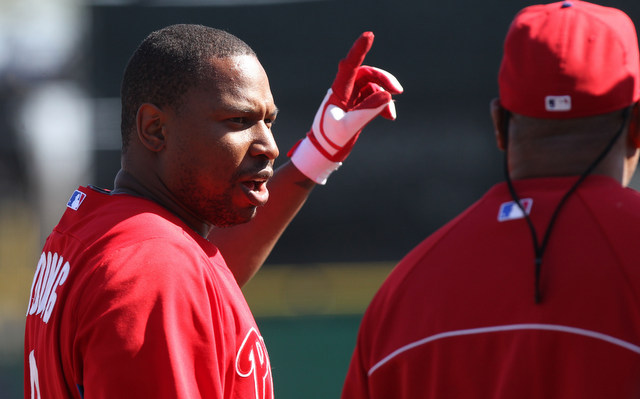 More MLB: Scoreboard | Standings | Probable Pitchers | Sortable Stats | Odds
Phillies outfielder Delmon Young opened the year on the DL following offseason ankle surgery, but he moved closer to joining the team on Sunday by playing in his first official minor league rehab game. He went 1 for 4 with a sacrifice fly and a strikeout for the team's High Class-A affiliate in Clearwater.
Defensively, the 27-year-old Young had seven balls hit to him in right field and he misplayed two of them, including turning a would-be single into a triple. Following the game, GM Ruben Amaro Jr. had some rather interesting comments about the outfielder's glovework. Courtesy of Matt Gelb of the Philadelphia Inquirer:
"Obviously we want his bat, but if he can't play defense he can't play in the National League," Amaro Jr. said. "He's going to have to be adequate out there. Until today he hadn't screwed up any balls, but today he did. ... He's got to play adequate defense out there for us in right."
The emphasis is mine.
Amaro has been running the Phillies since November 2008, so he's not new to the job, and he's had a lot of success over the years. That said, he signed Young to a guaranteed one-year contract this offseason. The poor defense shouldn't be a surprise to him.
Young has played in parts of seven big league seasons now, and the various defensive metrics all rate him as extremely poor in the field (career stats):
Total Zone: -61

UZR: -54.3
FRAA: -41.7
DRS: -39
Those stats measure runs saved on defense, or in Young's case, runs he's cost his teams over the years. Those are awful defensive scores; even the best one (DRS) is well below average. Yes, defensive statistics are a work in progress and not 100 percent accurate, but they work very well directionally over large sample sizes. Young is an awful defender, and chances are you're well aware of that if you've seen him play at any point since he broke into the league.
Maybe Amaro misspoke, but it seems incredibly weird for an NL GM to say "if he can't play defense he can't play in the National League" after signing the guy. Perhaps the Phillies have lower defensive standards or maybe their own internal evaluations say Young is a competent outfielder, but I find that hard to believe. It's been obvious he's bad in the field for years now. Signing a player and then ragging on his defense before he even plays a game for you sure is a head-scratcher.
Harrison has a thing for ending no-hit bids

Hill was close to perfect across regulation but it turned out to be all for nothing in the...

Plus Hank Aaron weighs in on Colin Kaepernick, Trevor Rosenthal hits the DL, and more
Davis should help fortify the Red Sox outfield

Whether or not Mike Matheny will adjust is to be seen

Hammerin' Hank wants to see Kaepernick get another shot in the NFL