Phillies' Halladay says he feels great, but can he be great again?
Roy Halladay said Wednesday it was a lower-back issue that derailed his 2012 season. He said a new workout regimen has him feeling as good as ever. Does that mean he'll be the Roy Halladay who was once (not long ago) baseball's best pitcher? The Phillies, who need him to be very good, can only wait and see.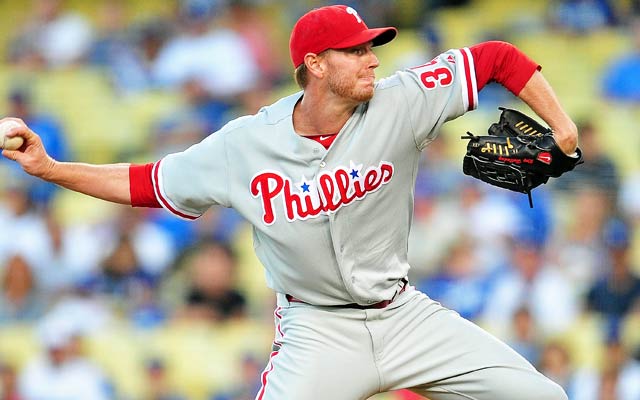 'I feel as good now as I have in any spring training,' Roy Halladay says.
(US Presswire)
CLEARWATER, Fla. -- The Phillies speak glowingly about what Roy Halladay once was. They speak hopefully about what Roy Halladay could still be.
They don't know, not yet.
They can't know, no matter how good he says he feels this spring.
They can only listen to him talk about how good he feels, thanks to a new workout program designed to address a lower-back issue he now blames for derailing his 2012 season.
"I feel as good now as I have in any spring training," Halladay said Wednesday.
The Phillies will take that as a positive, just as they'll take encouragement from the way Ryan Howard and Chase Utley have looked in the early days of spring. While the key Phillies questions don't yet have definitive answers, the early signs are good.
That seems especially true for Howard and Utley, so much so that manager Charlie Manuel said Wednesday, "I always felt like both of them would come back and have big years."
The Phillies need that, but they also need Halladay. Manuel talks about getting 50-60 wins from the trio of Halladay, Cole Hamels and Cliff Lee.
Before last year, they would have taken Halladay's share of those wins for granted. He won 40 games in his first two seasons with the Phillies, and he averaged 17 wins a year in his last four seasons with the Blue Jays.
He was at least in the argument for best pitcher in the game, and he deserved to be called the most dependable.
"He was something," Manuel said. "He was absolutely unreal."
Then Manuel paused.
"He's thrown a lot of bullets."
Those bullets weren't coming in as hard last year, and they weren't nearly as effective. Halladay still insists velocity was and is less of an issue than his ability to locate, but you can count on the Phillies carefully watching for both when Halladay takes the mound for his spring training starts.
Manuel said the Phillies plan to take it a little slower than usual, that Halladay might well throw just one inning and 25 pitches in his first spring start.
"I think he's going to be fine, really," Manuel said. "I think it's going to take time, but I think he's going to get there."
If you sense a touch of uncertainty in those words, you're probably right. Halladay is 35 now and will turn 36 in May. Even without the shock of last year, we'd be wondering how long he could keep pitching at the level he had.
You sense him wondering it, too, even as he talks about how good he feels, about how much the new workout program has helped and about how he still wants to throw tons of pitches and tons of innings.
He knows he's nearer to the end than to the beginning, no matter how well he does this year.
"Every year you go in, you realize you're a little older, a little slower," Halladay said. "The game's getting quicker. The guys are getting younger."
The Phillies aren't young, but they still have more talent than many give them credit for. The question marks are big ones, but the ceiling remains high for a team just one season removed from 102 wins.
The goals are still high, too, and it shouldn't surprise anyone that Halladay spoke of winning a World Series.
"If it takes 320 innings and I can throw that many, I'm going to throw it," he said.
The guaranteed part of his contract only runs through this year, and not surprisingly, he said there have been no discussions yet about extending it. Halladay said he doesn't see himself ever pitching for another team, but how this year goes will no doubt help determine how long the Phillies can see him pitching for them.
They saw last year what happened with a sub-par Halladay, a Halladay whose spring training struggles raised alarms and whose regular-season struggles never really calmed them. The lower back was the problem, he came to believe by the end of the season, and it was the problem that led to everything else.
"It seemed like the more I threw, the more of a problem it became," he said.
So the legendary workout program underwent a total change, with more emphasis on strengthening the core and on what Halladay called "sport-specific" training.
"We're not running at 4 in the morning," rotation-mate and workout-mate Kyle Kendrick said.
Halladay still starts early, maybe at 5:30 or 6 a.m. He still works hard.
"I saw him, and he was completely drenched," Manuel said.
But devotion to work was never a problem for Halladay.
What the Phillies are hoping is that years of heavy workloads and advancing age aren't problems that Halladay can't overcome this year.
They don't know that yet. They can't know that yet.
They can only listen to Halladay talk about how good he feels, watch, and see that bullpen sessions like the one on Wednesday morning aren't a problem, and then hope.
"I think we really need him to be good," Manuel said. "Don't get me wrong. He doesn't have to pitch no-hitters."
The Phillies remember when they could expect Halladay to do just that. It's not that long ago.
He was absolutely unreal, as Manuel said.
Healthy or not, can he ever be like that again?
This would undoubtedly be the worst trade in Miami Marlins history

The Pirates recently shipped Gerrit Cole and Andrew McCutchen to Houston and San Francisco,...

Surely, Martinez and his agent are holding out for more
The reliever had a very good 2017 season with the NL Central champs

We don't need to discuss Chipper's Hall of Fame case, so let's have fun instead

Dioner Navarro still hopes to return someday