Phillies' Lee, MLB's best-paid through next year, has little trade value
Cliff Lee is guaranteed the most money of any MLB player through 2015. He didn't look nearly that valuable in his return start, a showcase.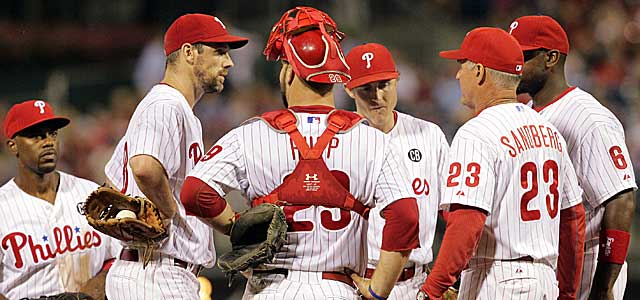 More MLB: Power Rankings | Expert Picks | Latest news & notes | Fantasy news
Cliff Lee's trade value, highly questionable heading into his return engagement Monday night, has to be bordering on nil now.
Even before Lee's rusty outing on Monday, one executive with a big-market team said, "How do you trade for him? He's paid a king's ransom, and he's hurt."
That is pretty much true on the money. In fact, Lee is guaranteed the most money of any pitcher (or player) through the end of next year, with about $48 million guaranteed for that year plus two months iand 10 days, thanks to a $25 million salary plus a $12.5-million buyout on a $27.5 million vesting option for 2016.
As for the whether he's hurt, well, technically he's back now. But he scarcely resembled the real Lee in his 7-4 defeat to the Giants, allowing 12 hits and six earned runs in 5 2/3 innings. He hadn't looked great in his three rehab starts (5.00-plus ERA) but this couldn't have impressed anyone. He might actually have been worse than those stats, as he was aided by the Giants running into two outs on the bases plus two diving plays by third baseman Cody Asche, one with the bases loaded.
Here's a sampling of comments from scouts who saw Lee in Philly on Monday:
• "Definitely flatter than usual."
• "Less precise"
• "In the zone too much."
• "Not his normal self."
If those comments seem kind, well, that's probably only fair since he'd been away two months because of an elbow strain. Indeed it's reasonable to judge on a curve since he surely was rusty, and this was his first showcase. (As one rival exec fairly pointed out, the second start back is generally a much better barometer).
But when a team is looking at that contract, which pays $25 million next year, then carries that enormous vesting option for $27.5 million for 2016 with that gigantic $12.5-buyout, it's tough to grade on a curve. (And speaking of which, his curve wasn't particularly sharp, either.)
That Lee's expansive 21-team no-trade clause includes all the big-market teams that could possibly want him, according to Cots Baseball Contracts (the Yankees included) does not matter much since he's thought to be open to a contender. But the question is: Will anyone take him now? Or even after the July 31 trade deadline? (Technically, he still could be dealt if he clears waivers, as one would expect, or is claimed by the right interested team).
There were scouts from most teams at his game, though the Phillies have a long list iof available players and many of those scouts were not there to see Lee. The Yankees, a team desperate for a frontline starter, didn't even send a scout for Lee, and that may tell you something.
If they had, like the others, they could not have been especially impressed.