Phillies make Cole Hamels, Cliff Lee available for trade
CBSSports.com's Jon Heyman reports that the Phillies are willing to deal their top two starters, but there's a catch.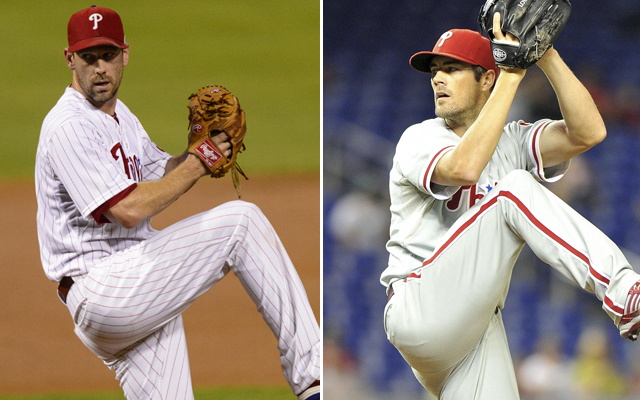 MORE: Winter Meetings updates | Halladay retires
CBSSports.com's Jon Heyman reports that the Phillies are willing to trade lefty co-aces Cole Hamels and Cliff Lee. However, Heyman also reports that the Phils are not willing to include cash in any deal involving either hurler.
That's significant because Hamels, at minimum is signed through 2018 at a cost of $112.5 million (there's also a $24-million vesting option for 2019). As for Lee, he's owed $25 million for each of the next two seasons, and in 2016 his contract includes a $27.5-million vesting option/$12.5-million buyout. 
The Phillies' reluctance to defray any of those costs will surely be an impediment to getting anything done, but, on the other hand, each pitcher has a history of excellence. Hamels, who turns 30 later this month, owns a career 123 OPS+ to go with a K/BB ratio of 3.83. Three times he's been named to the All-Star team, and three times he's finished in the top 10 of the NL Cy Young balloting. 
Meanwhile, Lee, age 35, has pitched to a 119 ERA+ and 3.88 K/BB for his career. Lee's also paced the majors in K/BB in each of the last two seasons, and he's logged at least 211 innings in each of the last six seasons. 
Needless to say, either pitcher could be a huge benefit to a contender, but said contender will need to assume all remaining salary obligations. 
The lefty starter is coming off a terrible season

After acquiring Ian Kinsler and Zack Cozart in recent days, the Angels are trending upward

Cozart's coming off a big season as the Reds' shortstop
The veteran slugger spent the last eight seasons with Cleveland

The Padres may be poised for an active winter

Yes, Bryce Harper is going to make a lot of money next winter