Phillies' Manuel will return as manager, but eventual replacement -- Ryne Sandberg -- seems obvious
Manuel will be back as Phillies manager in 2013, GM Ruben Amaro confirmed. But Sandberg is so well-regarded in the Phillies' organization that he is seen by some as a "manager in waiting.''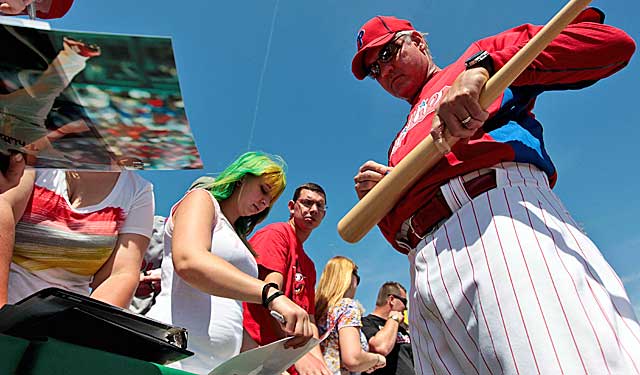 Ryne Sandberg autographs a bat. Will is fill out the Phils' lineup card someday? (US Presswire)
In a sense, Ryne Sandberg has been a Major League "manager-in-waiting" for six years, a Hall of Famer patiently awaiting his dream big-league job while toiling in the minors, first for the Cubs and then the Phillies. But many now see Sandberg as the Phillies' true "manager in waiting" in the more usual sense of the phrase.
There's little way around what seems obvious: while the timetable isn't set, Sandberg looks like the obvious replacement for the current highly-successful manager Charlie Manuel.
More on Phillies
Related content
Manuel will be back in 2013 as Phillies' manager, as he should be, GM Ruben Amaro confirmed in a phone interview. But if only for little reason beyond Manuel's age (68) and the Phillies' kind words about Sandberg, the former Cubs great appears a nearly sure bet to be Manuel's successor at some point.
Through no fault of Manuel, Sandberg or the Phillies, the phrase "manager-in-waiting" which became in vogue during George Steinbrenner's years of revolving-door managers, seems almost apropos.
Manuel, who guided the Phillies to two World Series appearances, probably cemented his return by keeping the Phillies playing hard after the deadline trades of Shane Victorino and Hunter Pence (Amaro said they aren't trading Juan Pierre now, as they aim to win as many games as possible; the Phillies are still drawing 40,000 plus and have pulled to within five games in the NL wild-card race).
But some insiders who talk to Phillies people insist that Sandberg, who's managed the Triple-A Lehigh Valley IronPigs for two seasons, is so well-regarded within the organization that there was a voice or two advocating a switch to Sandberg when Manuel was re-signed to a two-year extension through 2013 before the 2011 season.
"I don't know who you're talking to, but we're happy with Charlie," Amaro said. "And obviously, we really like Ryne."
They more than like Sandberg, they seem to love him. And it can't hurt that Dallas Green, who definitely loves him (and who made the great trade to acquire Sandberg for the Cubs when Green was the Cubs' GM), is a Phillies executive.
They like Sandberg so much that he's probably become the most obvious replacement for any team in the big leagues. "He's been great. He's done a nice job for us," Amaro said.
There's probably "nothing to be done" to ensure Sandberg stays in the organization, Amaro acknowledged. But if Sandberg is as smart as they think he is, he has to understand he probably only needs a little more patience to get his chance with the Phillies.
The Phillies aren't blaming Manuel for their surprise 70-71 record, which is only fair. "It's hard to give Charlie a grade for this year, especially considering we had so many things happen to us," said Amaro, referencing injuries to Ryan Howard, Chase Utley, Roy Halladay and a good portion of the relief corps. "Under the circumstances, I think we have done pretty good."
Some assume that Manuel likely will retire when his contract expires following the 2013 seasons, but Amaro said he hasn't heard that from Manuel. Amaro said, "At some point after next year, we'll sit down and talk, and see what the plan is."
By then, it would surprise most if Sandberg didn't get his chance.
It's rare to see a Hall of Famer beat the bushes for six years (four with the Cubs and two with the Phillies) in hopes of getting his first big-league managing chance, as Sandberg has. But it would be unheard-of to see him walking away when the opportunity he's been awaiting appears likely to be only a little more than a year away.
The lefty starter is coming off a terrible season

After acquiring Ian Kinsler and Zack Cozart in recent days, the Angels are trending upward

Cozart's coming off a big season as the Reds' shortstop
The veteran slugger spent the last eight seasons with Cleveland

The Padres may be poised for an active winter

Yes, Bryce Harper is going to make a lot of money next winter