Phillies scout Tigers' farm, but Papelbon deal called unlikely
Phillies scouts have been spotted double-checking the Tigers' farm system, seemingly to prepare for a possible Jonathan Papelbon deal.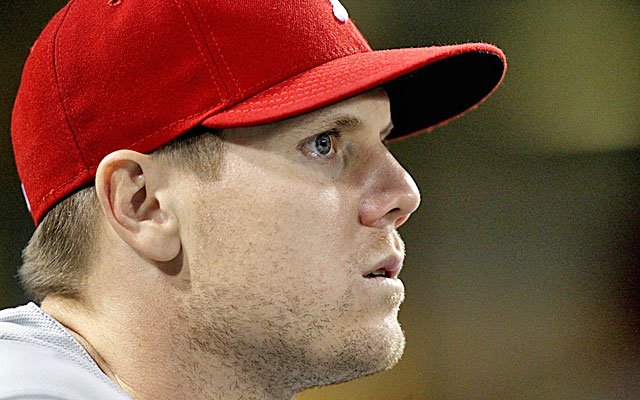 Given the way they've played the last week against the Braves and Nationals, the Phillies may not be sellers at all. But they continue to prepare in case they sell.
One sign: Phillies scouts have been spotted doing a second tour of the Tigers' farm system.
It's not hard to connect the dots and see what that could mean, with the Tigers needing a closer and with Jonathan Papelbon sitting in the Phillies bullpen.
Connecting dots doesn't always lead to a trade, and people who speak regularly with Tigers management continue to insist they won't be involved in a Papelbon trade. Money is reportedly the biggest roadblock, with Papelbon making $13 million a year through 2015 (with a vesting option for 2016).
Tigers owner Mike Ilitch has never been shy about spending, but the word is the money will be more of an issue this time around.
Papelbon's contract could be an impediment to any trade, whether to the Tigers or anyone else. Papelbon's reputation doesn't help, either. He didn't leave the Red Sox on the best of terms, with more than one source suggesting they wouldn't take him back under any circumstances.
The Tigers continue to look for bullpen help, even though Joaquin Benoit has done well as their most recent closer. In six appearances since the Tigers dumped Jose Valverde for the second time, Benoit is 3 for 3 in save chances and has allowed just one run in 6 1/3 innings, with one walk and 11 strikeouts.
Keep it locked right here for everything you need to know about the world of baseball Tues...

There have been several racially charged incidents at Fenway Park this year

Washington's right fielders have sputtered offensively since Harper went down
The good news? Wichita still has a chance to win the series Tuesday night

Soon more home runs will have been hit in 2017 than in any other season in MLB history

Ferrell somehow avoided going to the ground