Phils don't seem very interested in trading Hamels, but they should be
Philly needs to start again, and dealing star pitcher Cole Hamels should be the first step.
More MLB: Power Rankings | Expert Picks | Latest news & notes | Fantasy news
Everyone who has talked to the Philadelphia Phillies about star left-hander Cole Hamels comes to the same conclusion: Philliy isn't serious about trading the lefty.
The Phillies are said to have requested packages of multiple top prospects from at least the Los Angeles Dodgers , Boston Red Sox and New York Yankees , with no suggestion yet that any of the other teams have realistic hope to land Hamels.
As one rival GM put it after hearing the request, "Hamels is staying put."
The Phillies aren't saying that specifically. That's just the conclusion of rival teams.
It's reality.
But the Phillies would be well served to reverse course, to lower their demands and try to make a real effort to trade Hamels. They need to let go of the idea that this group that once looked like a dynasty can ever recapture its glory, and they need to think seriously about rebuilding.
Letting go isn't easy. But it's time. Actually, it's past time.
Hamels, who's 5-5 with a 2.72 ERA, could bring them back a decent return, and allow them to re-start. They should be able to get enough back to make it worth their while. It shouldn't take as much as they think because they'd also be able to re-direct his $24-million salary to fill more holes.
While he isn't as valuable as the Phillies seem to think, thanks to his high salary, he's the one Phillie who surely has a positive value instead of a negative one. He's the one hope to start anew.
Beyond Hamels, the Phillies' roster is a litany of overpriced players and bad contract clauses that are killing their deadline chore.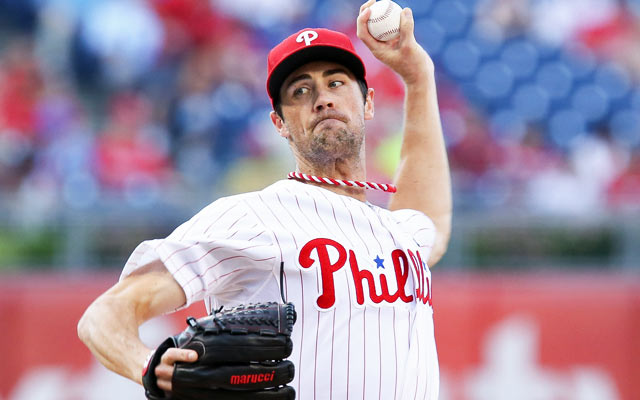 Cliff Lee makes too much money, and isn't performing well enough. One rival GM said the Phillies are "pushing" Lee. But it's hard to imagine anyone taking him until he starts performing better.
Ryan Howard makes much too much money, and isn't performing nearly well enough.
Jonathan Papelbon makes too much money, and he has a sticky vesting option on his contract for 2016.
Kyle Kendrick makes too much money.
Roberto Hernandez isn't performing well enough.
Domonic Brown , Ben Revere and John Mayberry Jr. aren't performing well enough.
Jimmy Rollins has veto power, and doesn't want to go anywhere.
Chase Utley has veto power, and doesn't want to go anywhere.
Marlon Byrd is performing well but seems unpopular for some reason. He also has a limited no-trade clause that includes only four teams, but as luck would have it, two teams that fit (the Seattle Mariners and Kansas City Royals ) are on the list.
A.J. Burnett isn't performing great and has a player option for up to $12.75 million for next year. If he wants to go to a contender, he might want to think about waiving that now.
In summary, their roster is filled with overpaid and/or underperforming players.
Hamels is one of the rare players who's performing to expectations. But he also has $104 million to go through 2019. He's making free-agent type money, and he missed some time earlier with biceps tendinitis.
While he isn't perfect, Hamels represents the Phillies' chance to remake themselves. It won't be easy to pull the trigger on a Hamels trade. But it's necessary.
The report also says that Jeter had outgoing president David Samson do the firing

This wasn't a traditional hidden ball trick, but the Blue Jays pulled it off

The Tigers essentially fired Brad Ausmus on Friday, but things are going to be ugly for a...
The club made the announcement on Friday

Plus the Tigers will make a change in the dugout and all of Friday's action

The Rockies are clinging to the second NL wild card spot at the moment