Phils need to take Papelbon up on offer, and find him a new team
Jonathan Papelbon has given his bosses a chance to find a trade for him by performing very well this year. And they need to do just that.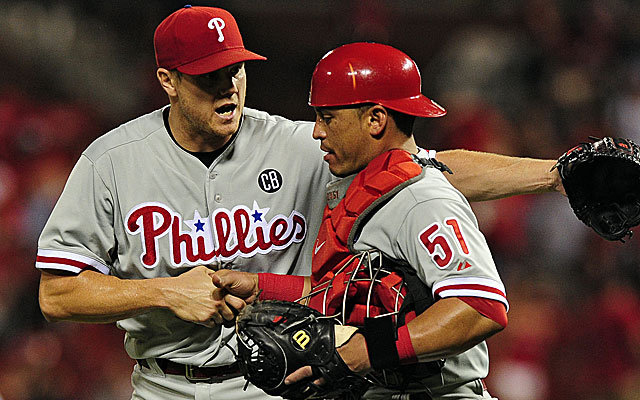 More MLB: Power Rankings | Expert Picks | Latest news & notes | Fantasy news
MINNEAPOLIS -- Phillies closer Jonathan Papelbon thinks he should be traded, and now that should make it unanimous.
Papelbon is said to be available, provided the Phillies don't pull a quick turnaround, which is the way it should be.
He won't fit the likely also-ran team, and he never fit that clubhouse.
So now it's time to go.
While he'll never be Mr. Popular among his Phillies teammates, things are apparently much better than last year, when the team was genuinely surprised not to be good and Papelbon was spreading his unhappiness. The mix was practically lethal, causing one person familiar with their situation to say at one point, "If they can find someone to take him, they'd chauffeur him to the airport."
Things have improved, as his 1 something ERA will have a way of making folks forgive faults. One person close to the Phillies, as a way to explain how things have grown acceptable between Papelbon and his teammates, observed, "He keeps to himself."
Even if he kept mostly to himself the past two years, he managed to annoy those around him, with proclamations about how wonderful things were with his old Boston teammates and other such negativities. That didn't go over well, and maybe he has learned to temper things a bit.
Though his latest comment at the very least seemed to question the thinking of Phillies icons Chase Utley and Jimmy Rollins, who have suggested they aren't anxious to leave the only team they have known or played for. "Some guys want to stay on a losing team? That's mind-boggling to me," Papelbon told Phillies writers. "I think that's a no brainer (to want to go to a contender)."
The Phillies weren't put off by those words. "None of what he said offended me," GM Ruben Amaro said. (Of course, you have to have a thick skin to be in Philly.)
More important is his pitching performance, which may give the Phillies a chance to extricate themselves from some, or even most, of a contract that was inadvisable from day one. He is 2-1 with a 1.21 ERA and 33 strikeouts against just nine walks in 37 1/3 innings. (With those numbers, it's a wonder he didn't make the All-Star team.)
Amaro said in a phone interview here a couple days ago that he'll listen to anything, and he's open to almost anything. Well, this is the one thing he should be most open to is this.
He should try to do it as soon as he determines it's sell time. The market isn't exactly bereft of closing alternatives, not with proven ninth-inning man Huston Street of the Padres out there, and past closers Joaquin Benoit and Joakim Soria available, as well.
What's more, the market could potentially become flooded, if the Red Sox (Koji Uehara) and Yankees (David Robertson) fall out of it. It isn't likely those teams give up on contention before the July 31 trade deadline, but it's possible.
The real problem with Papelbon it at this point isn't supply and demand, according to rival GMs. It's his contract. It isn't necessarily the $6 million that remains this year, or even the $13 million for next year, but an option for 2016 that carries the potential to become thorny. It vests at another $13 million with 55 games finished in 2015 or 100 games finished in '14 and '15 (he has 30 so far this year). That could mean he has $32 million more coming to him, and not many teams want to pay a reliever that sort of scratch.
All in all, it's pretty ugly.
But if ever there's a time to get out from under it, it is now. Papelbon, while not the growling 98-mph thrower he was in Boston, is pitching effectively at 92-94 mph, as the 1.24 ERA attests. He is 22 for 24 in saves, and could help a contender.
"I wouldn't just give Papelbon away," one Phillies-connected person said.
Unfortunately, that may be the reality, or close to it. Counting the contract, it'll take some sort of magic to bring anything of significance back.
The Phillies aren't desperate to unload dollars, as their ownership is willing to spend to win. But unloading the Papelbon deal would allow them to do something more vital with the loot.
Besides, not everyone is suitably impressed. "We're just waiting for the other show to drop," one AL scout said.
Folks have mentioned the Angels, Tigers, Orioles and Giants as possibilities, but Detroit suggests it intends to stick with Joe Nathan, Baltimore can't be unhappy with Zach Britton and it seems doubtful the Giants have $13 million to spend on a closer when their overall bullpen is strong and Santiago Casilla is just getting started in that role. Beyond all that, the Orioles and Giants are actually said to be more focused on the rotation, which shouldn't surprise anyone.
The Pirates, Royals and other contenders are said to want to upgrade their pens. But it's hard to see someone leaping at Papelbon, not with that contract.
And not when there are more attractive alternatives. Huston Street comes with a pristine clubhouse rep and team-friendly contract that includes a $7 million salary for this year and a $7 million club option for next year.
The Angels would seem to be a possibility for Papelbon, but there's little doubt they'd prefer Street.
Whether it Los Angeles, Anaheim or somewhere else, it has to be somewhere.
The bullpen is already a Phillies strength, and hard-throwing youngsters Ken Giles and Jake Diekman could grow into the closing role. In any case, the Phillies don't really need an expensive closer at the moment, not the way they've been playing. That's a luxury for a contender.
And he has given them the opening to do what needs to be done, and that is to move him out of Philly.
Judge and Sanchez played huge roles in the Game 4 comeback

The Yankees trailed by four going to the bottom of the seventh and still won
The Yankees rookie was caught stealing vs. the Astros in Game 4 of the ALCS, but he took the...

The Cubs are facing a right-handed starter for the first time in the NLCS

The Red Sox should probably just lay low on Twitter for a while