Phils trying to trade Howard, would need to pay most of $70M
Philly is offering to pay a vast majority of the money to cut ties with Ryan Howard.
More: Heyman: Cutting Howard is absurd | Latest MLB news, notes
The Phillies are said by rival executives to be working hard to find a suitor for Ryan Howard, presumably in the American League.
Word from competing execs is that Philly would be willing to eat much or most of the $70 million remaining on his deal. On Wednesday, news leaked that the Phillies have considered whether just to cut Howard after the year. It's hard to see how that could help his trade value, which has to be severely limited as it is.
Howard -- hitting .224 with a below-par .682 OPS -- has $70 million to go through 2016, so any acquiring team would only be expected to pay a small portion of the overall deal, which includes a $10-million buyout for 2017. While he has 15 home runs and 60 RBI, everyone understands he is badly underperforming, including him.
However, two GMs said they believed he should have a value of up to $5 million a year to an AL team looking for a DH, though those particular execs were not offering to take him, as they don't currently have the need. He has an extensive no-trade provision which covers 20 teams, but with the Phillies making clear that they'd prefer he'd be gone, he'd seem to have incentive to accept a trade, if they could find one.
The situation with Howard in Philly seemed to turn sour rather abrputly, as he was benched a second straight game Thursday and manager Ryne Sandberg mentioned a possible platoon situation to the Philly writers. A day earlier, Howard had spoken philosphically about his decline and his efforts to reclaim his game, but on Thursday he declined to say anything, instead instructing writers to "ask the manager."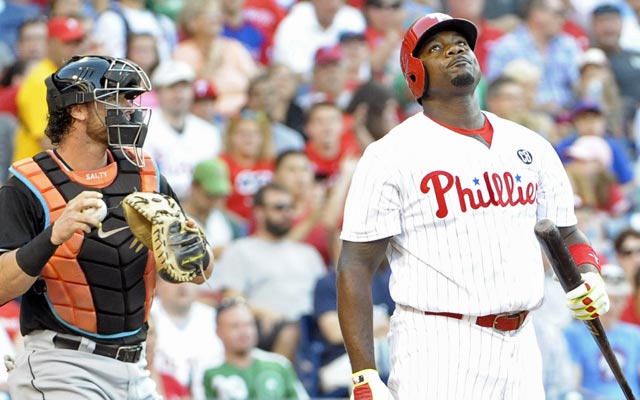 There's now a crowded outfield in San Diego

The former Braves star served as a race official for the Daytona 500

He'd be a good fit in the Bronx, but can they make it work and still stay under the luxury...
The slugger had shoulder surgery in November

Tebow reported to spring training with Mets position players on Sunday

Santa Clara senior Jake Brodt did the honors Saturday