Phils would eat some of Papelbon's contract but is anyone interested?
Philly needs to trade its closer if it can.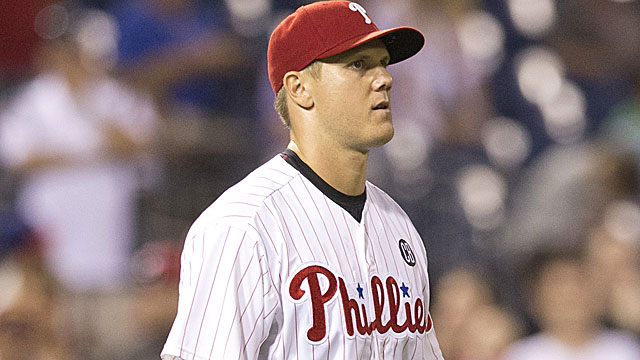 Trade deadline news | Phils willing to eat some of Papelbon's deal | Rumors
The Phillies are telling teams they'd absorb a portion of the $18 million remaining on closer Jonathan Papelbon's deal if they are interested in trading for the closer.
Papelbon's market seems light, if existent, after both the Angels and Tigers filled back-end bullpen needs with Huston Street and Joakim Soria, respectively.
Even with his very good season, there seemingly isn't strong interest in Papelbon, who is 2-2 with a 1.91 ERA. He has been saying a few things lately, and Thursday night, after saving his 24th game in 28 chances a 2-1 win over the Giants, he invited "the whole ballpark" to boo him. It's becoming increasingly clear it's time for the Phillies to do what they can to find him a new home.
The issue is the $50 million four-year contract that pays him $13 million this year and next and also provides for a vesting option for 2016 for another $13 million provided he finishes 55 games in 2015 or 100 combined in 2014 and '15. Vesting options can be sticky for acquiring teams.
The Pirates, Giants and Dodgers are believed among teams looking at bullpen pieces, but none of them is seen as needing a front-line closer, and the Giants are for one said not at all interested in Papelbon. Both the Giants and Dodgers should be happy with closers Santiago Casilla (with Sergio Romo in reserve) and Kenley Jansen. The Pirates might like closing insurance for Mark Melancon but it's hard to see them going near that contract, even if it was partly paid down.
Adell shows part of the reason why Los Angeles drafted him 10th overall in 2017

And, well, they're probably right

Supposedly, MLB execs have discussed letting teams hit any three hitters they want in the...
Keep tabs on the top 50 free agents on the market right here

After the departures of Steven Souza and Corey Dickerson, the Rays add a right-handed bat

Rasmus essentially walked away from baseball during last season