PHOTO: Astrodome groundbreaking was done with guns
When the Houston Colt .45s held their groundbreaking ceremony back in 1962 for what would be the Astrodome, no shovels were needed.
File this under things you'd never see happen in 2013.
When the groundbreaking ceremony was held for what would eventually be known as the Astrodome, te Texas officials on hand didn't use shovels. They used guns. Check it out:
Perhaps a bit polarizing, but I think it's very amusing and actually pretty cool.
No, this isn't a situation like "hey, we're in Texas and we love guns!" The Astros were at the time known as the Houston Colt .45s and the unform depicted a Colt .45 pistol with smoke from said firearm forming the C of "Colts." Here's a shot of the throwback uniforms the Astros wore in the 2012 season: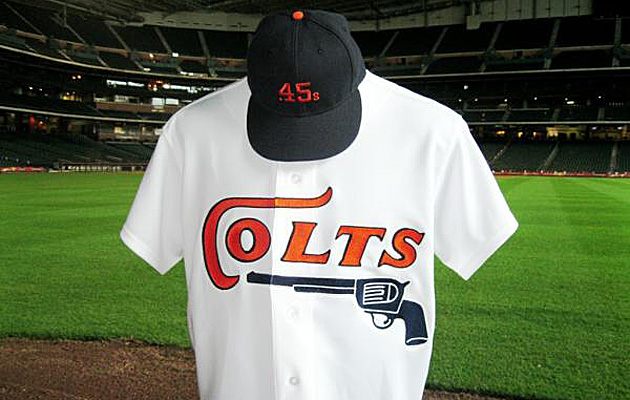 Via: Reddit and MLB Cathedrals on Twitter
Dioner Navarro still hopes to return someday

Christian Yelich's agent says his client's relationship with Marlins is 'irretrievably bro...

The free-agent market has been slow and one player is bracing for an even longer wait
The Mets didn't want to trade a young outfielder for an older one

Josh Harrison doesn't sound pleased Gerrit Cole and Andrew McCutchen have been traded away

The team's media contracts expire following the 2019 season