PHOTO: Bill Dinneen vs. Pittsburgh copper, 1903 World Series
Are Bill Dinneen of the 1903 Boston Americans and one of Pittsburgh's finest about to settle things with their fists? Quite possibly.
MORE: Pics of the deflated Metrodome
What follows is a pretty darn wonderful image courtesy of the Boston Public Library. It's of Boston Americans right-hander Bill Dinneen, capable sidecar to Cy Young in Americans' rotation, exchanging steely glares with one of Pittsburgh's finest during the course of the 1903 World Series. Please do regard: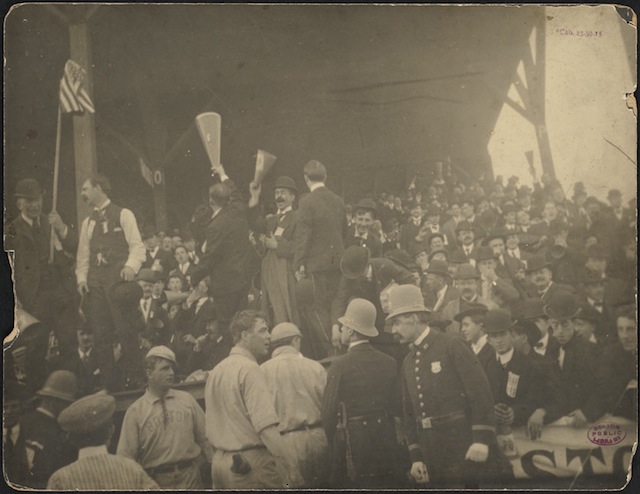 On the one hand, Mr. Dinneen's distressed countenance suggests he's had his fill of Pittsburgher guff. On the other hand, the mustachioed and right-wise flatfoot athwart him appears -- by dint of his clinched fists and jurisdictional powers -- inclined to teach the visiting "Big Bill" a thing or two regarding a thing or two and perhaps give him the bum's rush straight out of Exposition Park. The general sense of exuberance of the be-hatted Pirate rooters and the disheveled presence of Dinneen suggest this was captured in the moments after Game 4 on Oct. 6, 1903. In the affair in question, Dinneen was saddled with the loss, his only of the series. 
In any event, mortal hostilities were presumably avoided as Dinneen went on to go 3-1 with a 2.06 ERA across four starts in that inaugural World Series. The Bostons prevailed over the Pirates five games to three, and none other than Bill Dinneen struck out none other than Honus Wagner to end it. 
As for the copper in question, he'll nightstick some manners into you yet, Bill Dinneen, you rotten-most scamp of low breeding!
Sunday's MLB roundup features the D-Backs clinching a postseason spot and the Mariners going...

The 2017 season has been, by far, the worst season of Cabrera's career

The Mariners were eliminated from postseason contention with Sunday's loss
Maxwell became the first MLB player to kneel during the national anthem Saturday

The Blue Jays are not expected to bring Bautista back next season

The Dodgers have already clinched the NL West title, so the D-Backs will be a wild card te...