PHOTO: Cubs' new alternate road jersey?
Have a look at what appears to be the Cubs' new alternate road threads for the upcoming season.
MORE: The old Cubs mascot might kill you
In addition to a frolicksome and plucky new mascot, the Cubs will also reportedly be unveiling new alternate road unis for the 2014 season. Here, courtesy of UniWatch and @BupsJones, is what seems to be a first look ...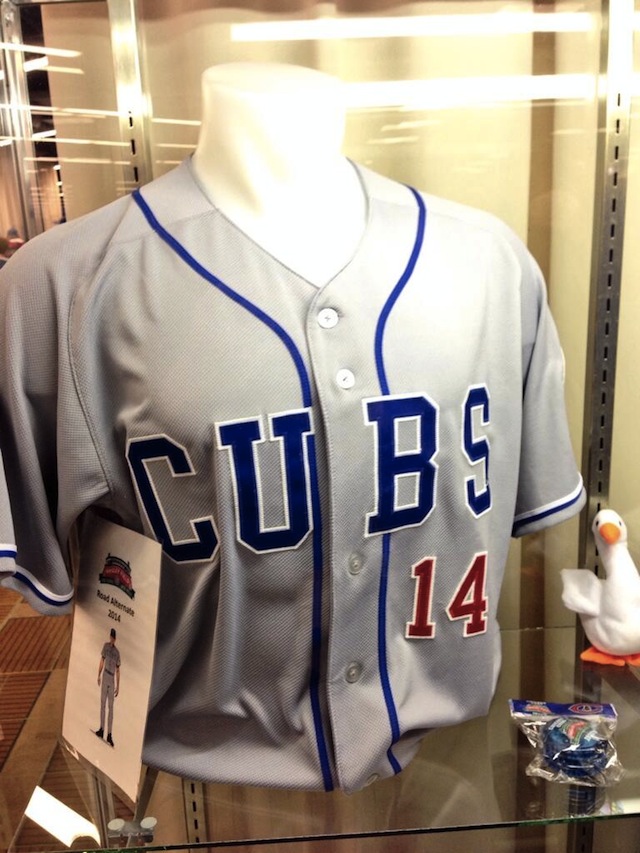 In spite of my belief that road jerseys should be festooned with the name of the team's city, this meets with my approval. After all, jerseys should be gray or white only, and the use of colored piping is encouraged. The font is also an acceptable choice.
Upon reflection, I have decided to allow it, provided that exposed socks or -- better yet -- stirrups are encouraged by management. 
Dioner Navarro still hopes to return someday

Christian Yelich's agent says his client's relationship with Marlins is 'irretrievably bro...

The free-agent market has been slow and one player is bracing for an even longer wait
The Mets didn't want to trade a young outfielder for an older one

Josh Harrison doesn't sound pleased Gerrit Cole and Andrew McCutchen have been traded away

The team's media contracts expire following the 2019 season