PHOTO: Jim Harbaugh attends SF Giants game, brings glove just in case
Jim Harbaugh put on his favorite glove and favorite pair of dad-pants and went to the ballpark on Thursday.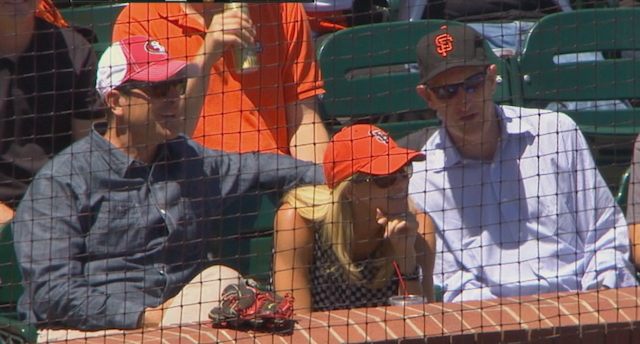 Say what you will about Jim Harbaugh, but one thing's for sure, the guy shows up prepared when he attends a baseball game. 
The 49ers coach was at AT&T Park for Giants-Cardinals on Thursday and he brought his glove. Did he need his glove? Probably not because he was sitting in the front row behind a net. 
He probably also didn't need to wear dad-pants, but that didn't stop him from wearing those. After pleading with Jim last month, it's surprising his wife went out in public with him. 
Question answered. "@Cut4: Jim Harbaugh, in Dad Pants, at today's @SFGiants game: http://t.co/ra2vpDkmtR http://t.co/VBDaINpF7k"

— Shelly (@holt_shelly) July 4, 2014
And just in case you're wondering, Harbaugh did eventually put the glove on. 
Casual run in with @49ers head coach Jim Harbaugh after the Giants game! pic.twitter.com/vJOoGBv8ni

— Jessica Sykes (@JessSykes29) July 4, 2014
Oh and that glove seems to be a favorite of Harbaugh's. He also wore it to an A's game in June 2013. Although judging by his face, it doesn't look like he caught a foul ball. 
If you're wondering what Jim Harbaugh did last night. He was at the A's game. With a glove. Making a Harbaugh face: pic.twitter.com/w6vnc5FiuN

— John Breech (@johnbreech) June 29, 2013
JULY 6 UPDATE: Apparently Harbaugh doesn't play favorites with the baseball teams in the Bay Area. After hitting up the Giants game on Thursday, Harbaugh attended the A's-Blue Jays game in Oakland on Saturday. And of course, he brought his glove. 
I found Jim Harbaugh! #49ers #Athletics pic.twitter.com/roXJd5RQqL

— Anson Casanares (@AnsonCasanares) July 6, 2014
They still would much rather grab the AL East, however

Sale becomes the first AL pitcher to reach 300 strikeouts since 1999

Steve Balboni's long-standing record of 36 has finally fallen
Several players called for the netting to be extended down the base lines following Wednesday's...

Maria made landfall as a Category 4 on Wednesday

The players are trying to do their job and don't want to see anyone hurt