More MLB: Scoreboard | Standings | Probable Pitchers | Sortable Stats | Odds
Prior to the Indians' home opener on Friday, a Native American group just outside Progressive Field was protesting the team's ongoing (albeit diminished) use of the red-faced "Chief Wahoo," which some see as an offensive caricature of Native Americans. In the course of that protest, the following photo was taken: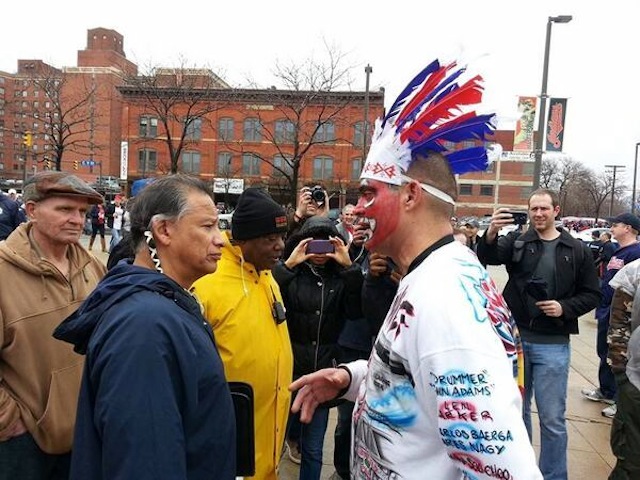 (Image: @SBNationMLB)
On the left is a man the AP, in a different photo taken at the protests on Friday, identifies as Robert Roche, an Apache Native American. On the right is, presumably, an Indians fan with, well, you can see the rest ... 
There's a reasonable discussion to be had over whether it's appropriate for teams to be named after Native Americans and to what extent they should adopt the iconography of same. This, though ... 
Let's just say costuming your face in red paint and putting on a headdress -- going full-on "minstrel," really -- is quite obviously beyond the pale. Perhaps he learned a little something from the conversation pictured above.