Photo of the day: Cardinals fan's Stan Musial tattoo
A Cardinals fan at the home opener Monday showed off his tattoo of the Stan Musial statue outside Busch Stadium.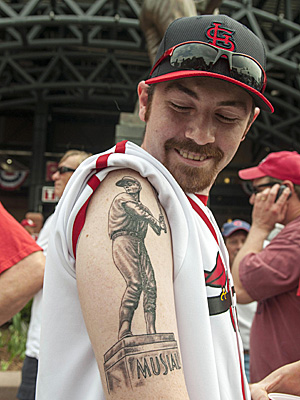 As most baseball fans know, Cardinals legend Stan Musial died this past offseason. With Monday being the 2013 Cardinals' home opener, "Stan the Man" was obviously on the minds of many Cardinals fans, both in attendance and watching from home.
For one fan, though, Musial was on more than his mind. St. Louis resident Chris Muschamp has a tattoo of the Musial statue that stands on the sidewalk outside the third-base side of Busch Stadum.
Having zero tattoos myself, I have no clue how long something like this would take, but I imagine quite awhile.
Also, that's a bang-up job by the ink master.
Washington's right fielders have sputtered offensively since Harper went down

The good news? Wichita still has a chance to win the series Tuesday night

Soon more home runs will have been hit in 2017 than in any other season in MLB history
Ferrell somehow avoided going to the ground

Plus, we saw a possible AL Wild Card Game preview in the Bronx and lots more from around M...

The Pirates disappointed in 2017. Will 2018 be any different?