Photo of the day: Lou Gehrig's 'luckiest man' speech, in color
See Lou Gehrig on the occasion of his famous speech at Yankee Stadium, as you've likely never seen him before.
Related: Doyel: Don't forget fight against ALS
The loyal page viewer will recall that not long ago in this handsome space we marked the 75th anniversary of Lou Gehrig's "luckiest man" speech -- delivered in impossibly humble and courageous tones by a baseball legend who would die from ALS less than two years hence. 
Now, via inspire52.com (tip: check out the entire gallery at that link), comes this expertly colorized image of Gehrig pausing to gather himself as he spoke his iconic words ...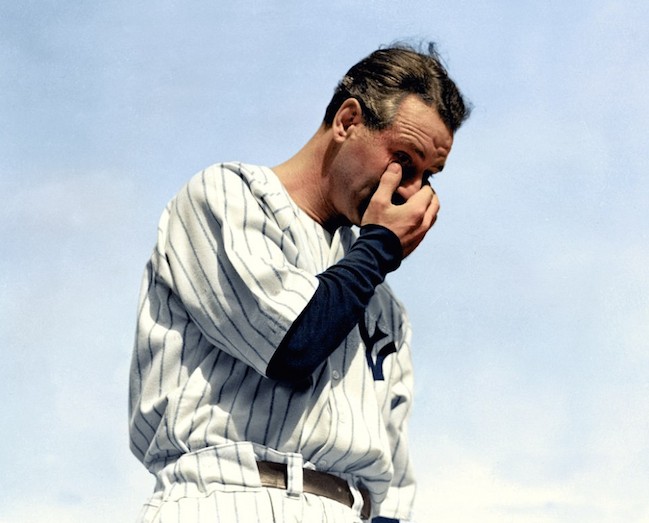 I don't want to get too rhapsodic, but you can all but make out the conflicts of that moment in Gehrig's face, and probably at least a flicker of awareness that something was deeply wrong with him. 
That's a resonant image of a resonant human being. 
Plus the Indians are now 27-1 in their last 28 games. Here is everything you need to know from...

The soon-to-be 43-year-old Dickey said he wants to spend more time with his family

The two NL Central rivals opened a four-game series at Miller Park on Thursday night
The ballparks in Cincinnati, San Diego and Seattle will have expanded netting in place by Opening...

Mondesi spent six years as the mayor of San Cristobal in the Dominican Republic after reti...

The veteran skipper has been Mets manager since the start of the 2011 season