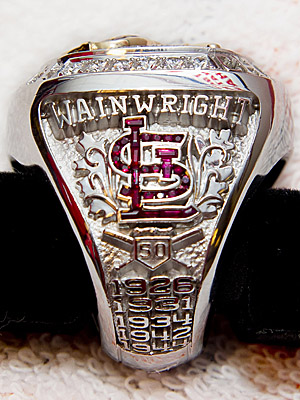 As my esteemed colleague Dayn Perry noted in this morning's Pepper (
in The Lineup
, which you really should be reading every single day here at Eye On Baseball), the Cardinals got their World Series rings Saturday in Busch Stadium. And the ring subtly depicts the "rally squirrel' that become a bit of a phenomenon in
St. Louis
last October.
The "rally squirrel" appeared in Busch Stadium during a Skip Schumaker at-bat against Roy Oswalt during the Cardinals-
Phillies
NLDS, Game 4. A day earlier, presumably the same squirrel had been seen on the field. The Cardinals went on to win Games 4 and 5 and eventually the World Series.
During the World Series, every single souvenir stand I walked by in St. Louis had some sort of stuffed squirrels with Cardinals logos for sale.
Pictured here is starting pitcher
Adam Wainwright
's ring, and if you look closely you'll see the squirrel. Look between the Cardinals logo and the home plate with a "50" on it.
Also of note: It says "Happy Flight" on the inside of the ring, referencing the Cardinals' rally cry late in the season.
For a closer look the squirrel, see below:

For more baseball news, rumors and analysis, follow @EyeOnBaseball on Twitter, subscribe to the RSS feed and "like" us on Facebook.