PHOTO: San Diego State hoops fans pay tribute to Jerry Coleman
Check out how the SDSU student section chose to honor Padres broadcaster Jerry Coleman, who recently passed away.
MORE: Coolest Jerry Coleman photo ever?
As you're surely aware, former MLBer and Padres broadcaster Jerry Coleman recently passed away at the age of 89. Coleman was a baseball man, a genuine war hero and by all accounts a beloved and thoroughly decent individual. It follows, then, that many are paying tribute to the great man that was Jerry Coleman. One of the best of these tributes came courtesy of the San Diego State student section at Wednesday night's Boise State-SDSU men's basketball game (which the Aztecs won).
You see, one of Coleman's broadcast flourishes was, at the sight of an impressive play or hit, to bellow, "You can hang a star on that!" The story goes that one of Coleman's earliest teachers used to hand out gold stars when her students did something praiseworthy (Coleman insisted he never received one of those). So in his own way, Coleman became known for "handing out" gold stars of a different sort.  
During the run-up to that SDSU-Boise State game, some regulars of "The Show," which is the colloquial term for the rather raucous Aztecs student section, took to organizing something ... 
Help us honor San Diego icon and true American hero, Jerry Coleman by bringing your own star to hang on Wednesday against Boise. #OhDoctor

— The Show (@TheShowSDSU) January 7, 2014
And here's a good idea made even better in execution ...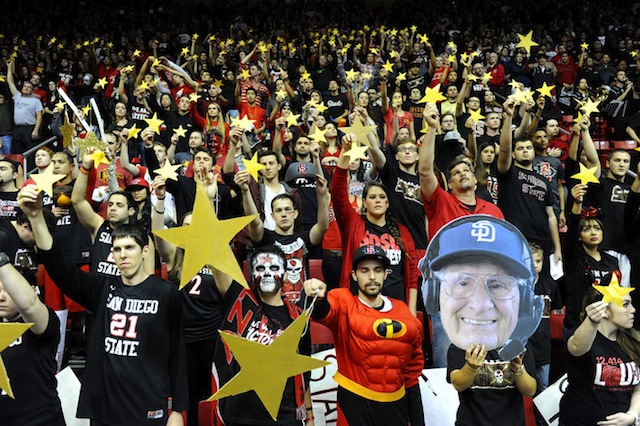 Well done, Aztecs. Somewhere better than here, Jerry Coleman probably got a kick of it. 
(Wink of CBS eye: Gaslamp Ball)