PHOTO: The Royals are selling water from Kauffman Stadium fountains
The Royals are selling bottles of water from the Kauffman Stadium fountains for some reason.
More MLB: Scoreboard | Standings | Probable Pitchers | Sortable Stats | Odds
General rule of thumb: if companies can make money by branding something and slapping some fancy packaging on it, they'll do it. Baseball teams are no exception. The Royals, for example, are selling bottles of water from the Kauffman Stadium fountains: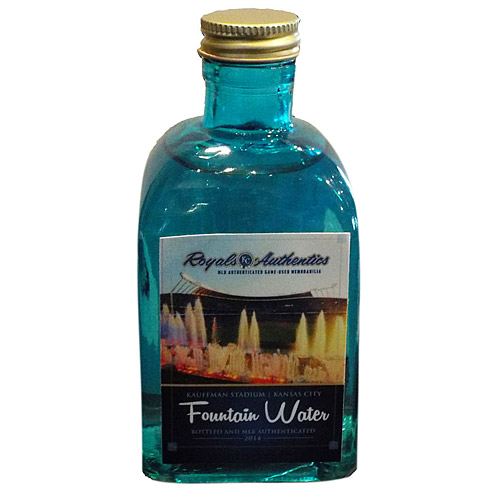 That fine piece of memorabilia will only cost you $19.99 plus shipping. Here's the product description from the MLB.com shop:
Product Description & Features
•Take a piece of Kauffman Stadium home with you. All bottles are authenticated by Major League Baseball.
•This product is officially licensed and authenticated by Major League baseball and comes with the MLB hologram guaranteeing its' authenticity.
What would you do with a bottle of Kauffman Stadium fountain water? Well, you can't drink it, especially since this has happened:
So I guess it's a display piece. Stick it up on the mantle or a shelf somewhere and hope it starts some conversations.
(h/t The Big Lead)
Martinez could add some power to a Boston lineup void of it

It's almost that time of the year again, time for the Tebow madness to return

Walker was a tremendous all-around player, but Coors Field undoubtedly inflated his career...
A beardless Wilson says that he tried to outrun the police on the second day he had his driver's...

The Diamondbacks outfielder was not impaired, he was just going way too fast

MLB can unilaterally implement rule changes, which will also include limits on mound visit...