PHOTO: US Cellular Field, possibly about to kill and eat Comiskey Park
Rarely do we see an old park and its newer replacement in the same photo, but consider this an interesting exception.
More MLB: Power Rankings | Expert Picks | Latest news & notes | Fantasy news
Pictured below is the White Sox's new(er) home, U.S. Cellular Field, in menacing adjacency to the White Sox's old home, Comiskey Park ...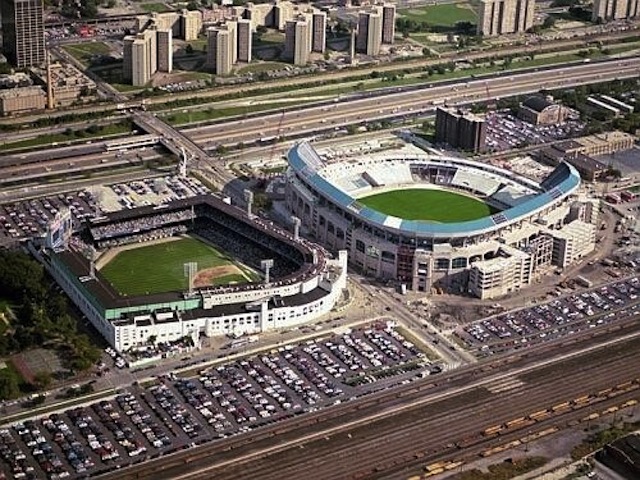 As the headline suggests, the hulking Cell seems poised to run down poor, wee Comiskey, disembowl it with its rapier-like talons and fangs and then mercilessly consume it on the blood-spattered savanna. As it turns out, that's precisely what happened.
Actually what happened was that Comiskey was razed 1991 in order to make way for a parking lot, but the metaphor holds.
(Wink of CBS eye: @MLBCathedrals)
Plus the A's have hope and all the rest of the day's action

Matt Chapman and Matt Olson give the A's hope

Despite an awful month, the Dodgers are again NL West champions
The record of 38 previously belonged to Hall of Famer Frank Robinson

The report also says that Jeter had outgoing president David Samson do the firing

This wasn't a traditional hidden ball trick, but the Blue Jays pulled it off