PHOTO: Your Astros 'fan tattoo' of the day
The Astros aren't much on the field these days, but one fan isn't short on championship enthusiasm.
MORE: Willie Mays's "catch" like you've never seen it
As Socrates once wrote, "The truest rooter is he who hath been ruptured by the tattooist's plume." (Note: Actually, Socrates did not write anything, least of all the preceding.) And as the following gentleman proves, there's no better way to satisfy Socrates's edict than by getting your favorite team's name etched in large-point font upon one's soup-bone. 
Here, see for yourself: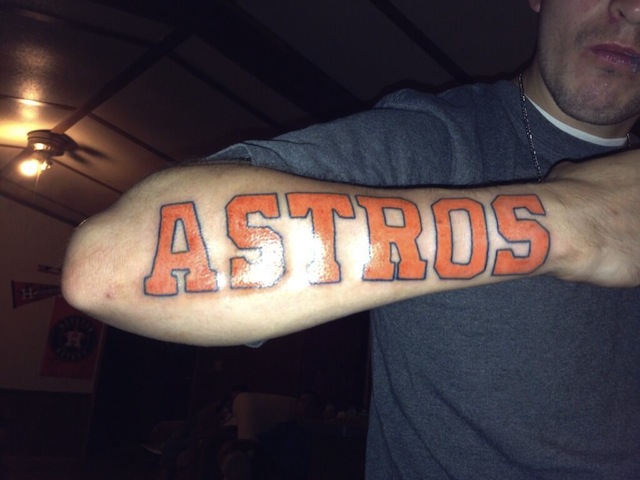 True confession: I find something oddly admirable about this.
The point, though, is that one distant day when the Astros hoist the World Series trophy, all those who came after should bow down before this gentleman, who chose the afterglow of a 111-loss season in which to maim his corporeal self in honor of the hometown nine. 
If every team is at heart a tribe, then this, Astros rooters, is your village elder. Please remit payment in the currency of respect. 
(Wink of CBS eye: Darren Rovell)
The Nats will host the All-Star Game in 2018

The Orioles are looking to trade Machado heading into his walk year

The Cardinals have been linked for a while to the Baltimore star
Gallardo spent the first eight years of his career in Milwaukee

MLB revenues are at a record high right now, but teams aren't spending it on players

Chicago added Tyler Chatwood earlier this offseason but might not be done adding to the ro...