Photos: Braves retire John Smoltz's No. 29
The Braves retired John Smoltz's No. 29 before Friday's game against the Blue Jays. He became the ninth Brave to have his number retired.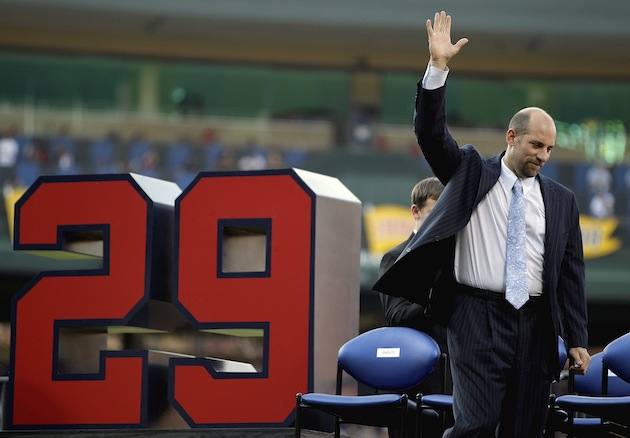 Before Friday's game against the Blue Jays, the Braves honored former pitcher John Smoltz by retiring his number.
Smoltz's No. 29 is the ninth number retired by the Braves, joining Hank Aaron (44), Eddie Mathews (41), Dale Murphy (3), Phil Niekro (35), Warren Spahn (21), Greg Maddux (31), Tom Glavine (47) and Bobby Cox (6).
Smoltz played 20 of his 21 years in baseball for the Braves, picking up 210 of his 213 career victories for Atlanta. He also recorded 154 saves in his career and had an ERA of 3.33. He owns team records for career strikeouts (3,011), saves (154) and pitcher appearances (708), as well as single-season team records with 276 strikeouts in 1996 and 55 saves in 2002.
"Honestly, I thought I was going to lose it when I started talking about playing for the jersey," Smoltz told reporters after the ceremony, according to the Associated Press. "That's something I hope more people can take pride in, wearing a jersey. For some people it's just a jersey. For me it was my life."
Smoltz is just the second baseball player to have No. 29 retired, but the Braves are the third team to do so -- as Rod Carew had No. 29 retired by both the Twins and Angels.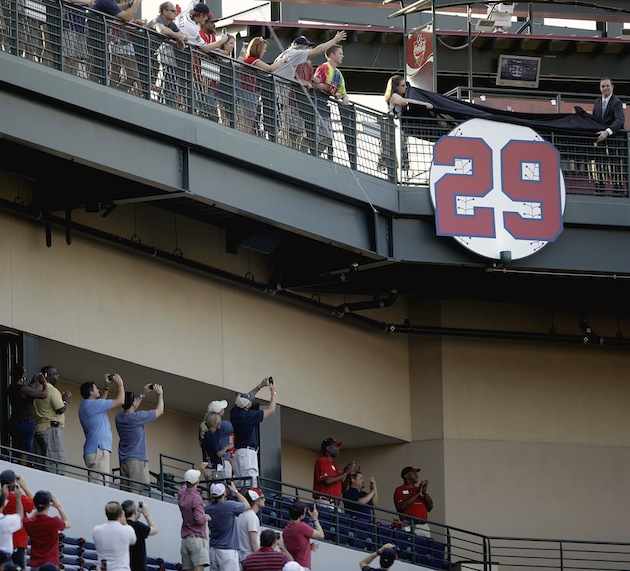 Where might the Orioles third baseman land?

Kinsler will slot in at second base for the Angels

The Marlins got a better return for Ozuna than Stanton or Gordon
The two teams are going about things in very different ways

The Marlins are indeed in teardown mode under new ownership

The Marlins still have more attractive pieces