PHOTOS: New Hunter Pence bobblehead is outstanding
Hunter Pence bobblehead giveaway day in San Francisco is April 9, 2014. And it has Pence riding on a motorized scooter.
Giants right fielder Hunter Pence is going to be the subject of a bobblehead giveaway to the first 40,000 fans in AT&T Park Wednesday, April 9 of this upcoming season.
Here's a glimpse of the front of the head, via Pence himself (hat-tip: MLB Cut 4 blog):
That, however, is not the awesome part. Check out the side view:
The backstory? Pence takes a motorized scooter to AT&T Park for home games in San Francisco. Here is your visual:
Exceptional effort on the bobblehead, Giants marketing department.
Now, those familiar with Eye on Baseball know our affinity for creative bobbleheads and we've even come up with a litany of ones we'd love to see in the near future.
The Bobblehead Project is on hiatus -- though definitely not permanently -- but here is our gallery. Click on any individual thumbnail for the original version with a full-size picture and the back story to each bobble: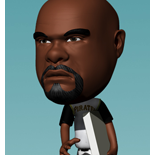 The Orioles, Blue Jays and Rays have star players they should use toward rebuilding for the...

The Yankees may not be done collecting stars

The team could instead use a closer by committee approach
Both Seung-Hwan Oh and Trevor Rosenthal are free agents

The Yankees may plug their third base hole with a familiar face

Darvish's poor World Series hasn't scared the Dodgers away