PHOTOS: Sydney Cricket Ground gets ready for Dodgers, D-backs
Let's check out some photos of the hallowed grounds on which the Dodgers and Diamondbacks will open the 2014 season.
MORE: Spring Training | FA tracker: position players | FA tracker: pitchers
As you are no doubt aware, the Dodgers and Diamondbacks on March 22 will open the 2014 regular season with a pair of games in Sydney, Australia. Regarding these baseball events, let's enjoy a few photographic images of the august Sydney Cricket Ground (SCG), the venue that will play host to the Dodgers and D-backs, getting itself in baseball shape.
First, from the SCG official site, a brief bit of history ... 
"In 1851 Colonel Henry Bloomfield, commander of the 11th North Devonshire regiment, stationed at the Victoria Barracks, applied to the Colonial Secretaries Office to use the sandy, scrubby expanse of land south of the barracks for his soldiers. Granted permission, the soldiers cleared and cultivated 25 acres of the once sandy hills into a military garden and cricket ground.

Born from these endeavours, the SCG became one of the world's great sports stadia. It owes its unique position and continued relevance to more than 160 years of cultivation and construction. Its development has been led by key individuals who have responded to the needs of the people of NSW [New South Wales] for a site where they could congregate for the enjoyment of sport and social activities."
It's worth noting that this isn't the first time that this, our baseball will have been played at SCG. Way back yonder in 1914, the White Sox and Giants played New South Wales on these very grounds. Here's a look at that ...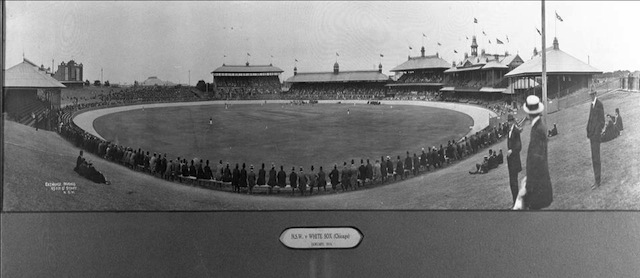 (Image: Australian Baseball League)
As for current-day concerns, it's a bit of work to transform a cricket ground into a baseball field. For instance you need accurately drawn foul lines and such ...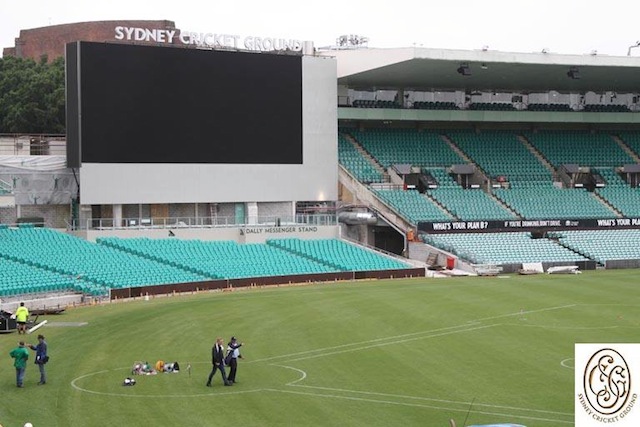 (Image: SCG Facebook page)
And you need dirt -- lovely and talented major-league dirt, no less ...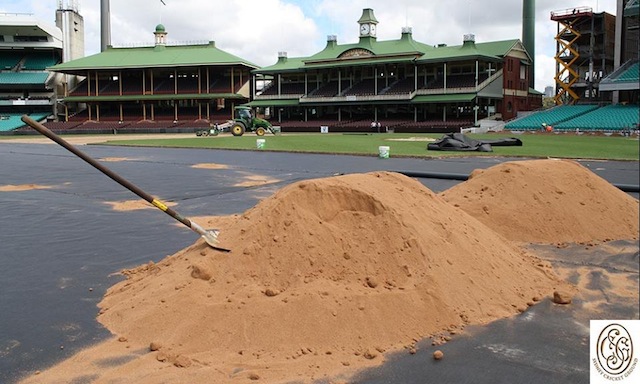 (Image: SCG Facebook page)
You build the mound ...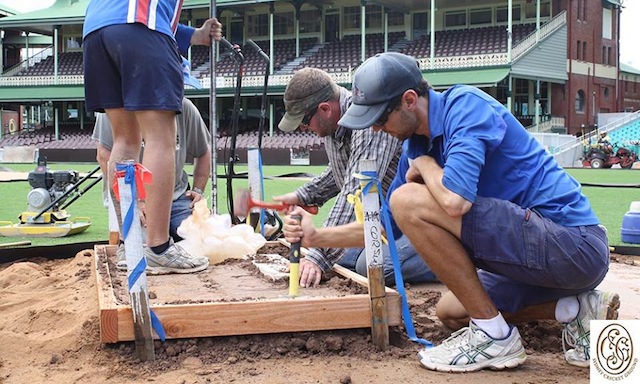 (Image: SCG Facebook page)
You embed the plate ...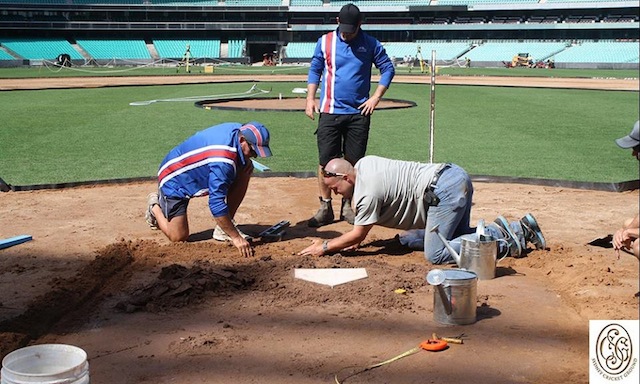 (Image: SCG Facebook page)
You install a couple of dugouts ...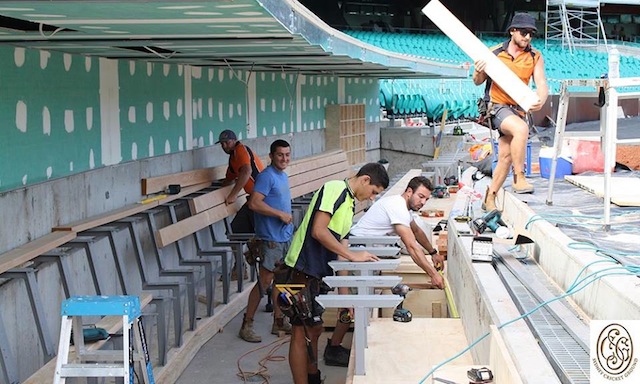 (Image: SCG Facebook page)
You put up an outfield fence ...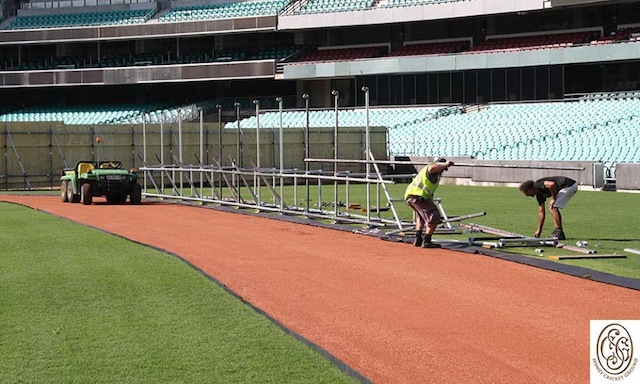 (Image: SCG Facebook page)
And eventually you get a pretty charming site for some baseball ...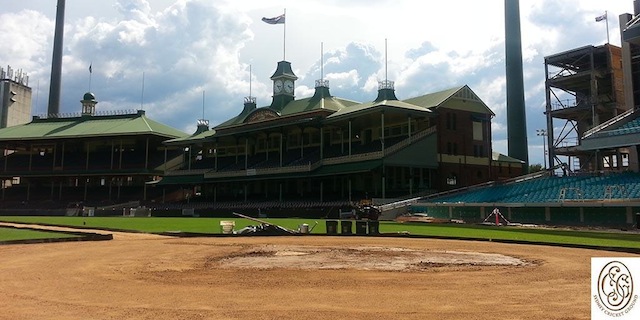 (Image: @SCG)
In the end -- and in the timeless medium of cartography -- you've gone from this ...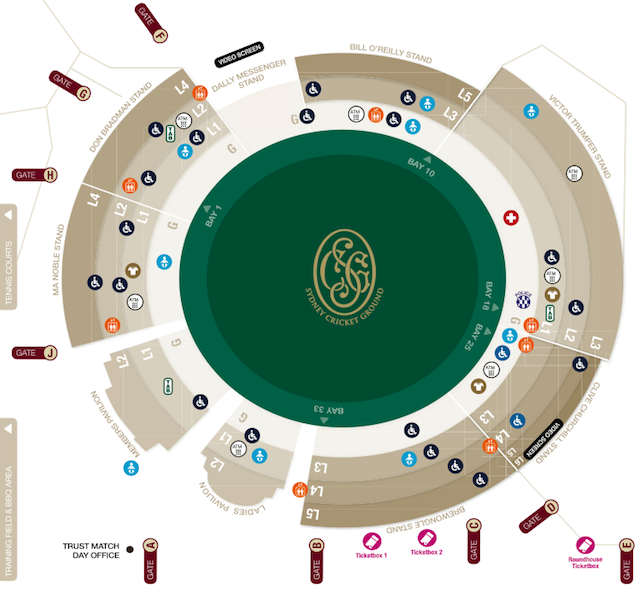 (Image: SydneyCricketGround.com.au)
To this ...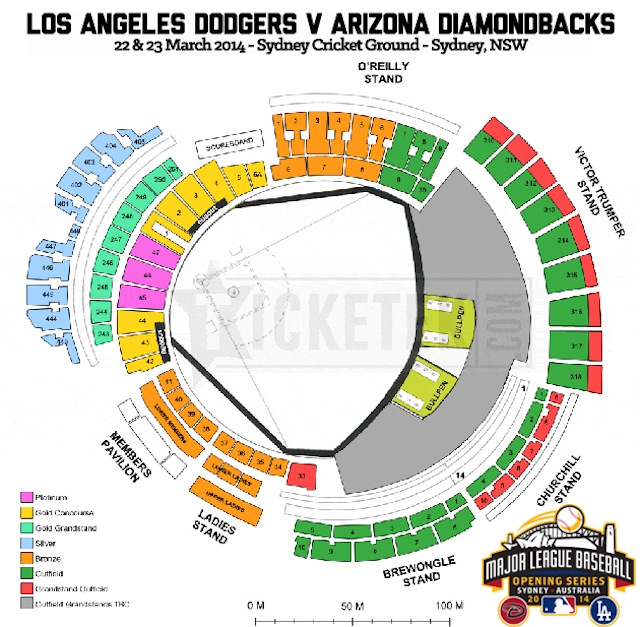 (Image: ABL)
So nice work, Aussies. 
Oh, and here's what a forthcoming rain delay and or Sharknado Warning might look like ...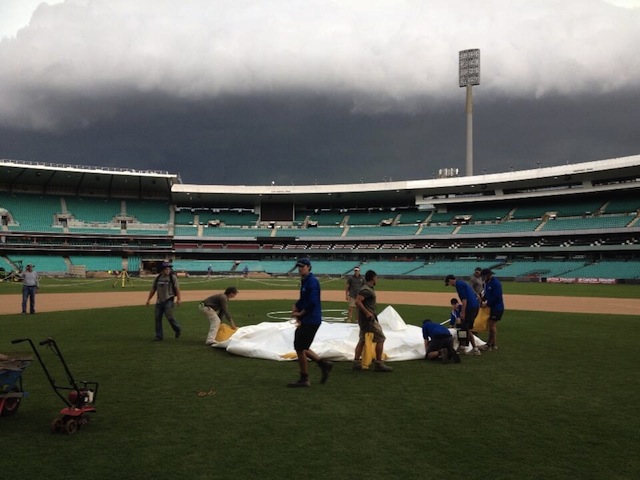 (Image: @SCG)
Play ball! Soon enough, anyway ...