Pioneering female sportswriter Alison Gordon dies at 72
She was Major League Baseball's first female beat reporter, covering the Toronto Blue Jays from 1979-1984. It was not easy for her, but she's remembered fondly by colleagues and subjects.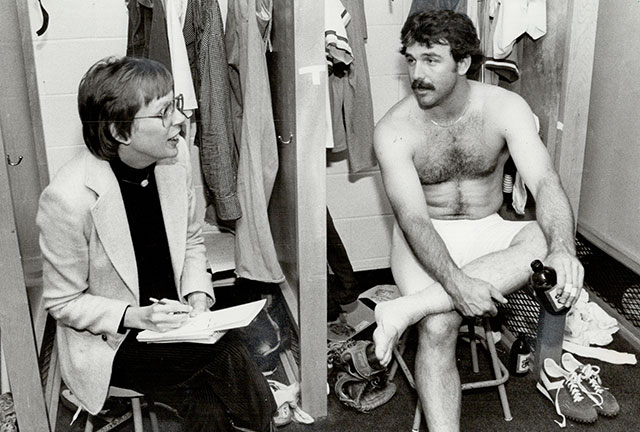 The first female beat writer in Major League Baseball history, Alison Gordon reported on the Toronto Blue Jays, it was said, with a passion, a thick skin and a sense of humor. Gordon needed all three in abundance, given that many of the people she covered didn't think she belonged in a major league clubhouse simply because of her gender.
One of many incidents included the Texas Rangers banning all reporters from the home clubhouse rather than allowing in Gordon when the Blue Jays played there in May 1979. No matter that, a year earlier, a league-wide ban on females in the clubhouse had been overturned in court.
Regardless of the resistance she faced, Gordon worked the Jays beat with the Toronto Star for five years, earning respect as an individual and helping to prove that women as a group belonged.
Gordon died Thursday morning in Toronto after being hospitalized for a lung ailment at the age of 72.
Brendan Kennedy of the Star talked to several of the people in Gordon's professional and personal life. Included were Lloyd Moseby, an outfielder with the Jays who gave Gordon a chance from the get-go:
Moseby, who spoke to the Star from his home in Sacramento, Calif., said he was shaken by the news. "I had hoped to see her again. She was a great lady."

The former outfielder got along with Gordon right away, but not all his teammates were as welcoming. Barry Bonnell, a devout Mormon who played for the Jays from 1980 to '83, protested against allowing women in the locker room on religious grounds. Others, like George Bell, simply believed the clubhouse should be kept a masculine domain.

"We had four or five guys that really rallied around not letting her in the clubhouse, but I don't think Alison gave a damn, to tell you the truth," Moseby said. "She could have very easily taken the words that a lot of guys said and took it to heart and went back to her bosses and said, 'I'm not doing this. I don't get paid to take abuse.' But she never did. She kept showing up. And it was amazing, really. I'm just proud to have known Alison."
This video from CBC News in Canada, published while Gordon worked the Jays beat, also gives some insight into what she endured and why she bothered. Her brother Charles Gordon doesn't believe his sister went into the business to be a trailblazer. She just loved baseball, loved to write, was good at it and needed the chance to show it.
After her time with the newspaper, Gordon became a fiction writer, but one with relatable themes to her days with the Jays. Notably her sense of humor. Via the Canadian Press:
She earned a National Newspaper Award Citation of Merit for "Foul Balls," her first book that detailed her experiences covering baseball. In 1988, Gordon wrote "The Dead Pull Hitter," the first in a series of five mystery novels featuring heroine Kate Henry, a sportswriter who solved murders in pro baseball.
Female beat reporters aren't all that abundant in MLB today, but times have changed for the better since Gordon's day — in large part due to her willingness to be on the front line.
CBS Sports HQ Daily Newsletter
Get the best highlights and stories - yeah, just the good stuff handpicked by our team to start your day.
Please check the opt-in box to acknowledge that you would like to subscribe.
Thanks for signing up!
Keep an eye on your inbox for the latest sports news.
Sorry!
There was an error processing your subscription.
The field reportedly narrowed to Doug Melvin, Chaim Bloom, and Brodie Van Wagenen

Our advanced computer model simulated the entire 2018 World Series 10,000 times

Between the young talent, big payrolls and smart execs, these two teams have a bright futu...
The Marlins added some outfield talent to their system on Monday

Will the Dodgers or Red Sox prevail in the 2018 World Series?

The Brewers fell a game short of the World Series, so now it's time to try and build on th...