Pirates badly needed a hitter, and Marlon Byrd will do
It's been quite a year for the Pirates, but they needed a boost. Tuesday, general manager Neal Huntington provided one.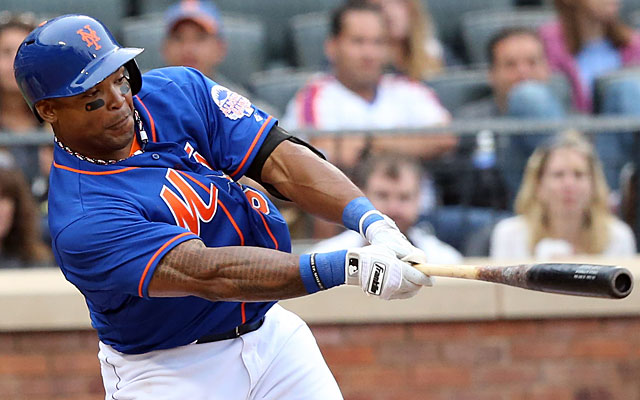 The Pirates didn't need excuses. They needed a hitter.
Good for Neal Huntington for getting one, in a market where hitters were far too hard to find. Good for Huntington for working the waiver wire as hard as any general manager out there, the result being Tuesday's trade with the Mets for Marlon Byrd and John Buck.
Huntington's team has outperformed expectations, not only promising to finally end the record streak of 20 straight losing seasons but also threatening to come out on top in what has turned into a surprisingly strong NL Central. The Pirates have energized their fans, and as much as the front office wants to say that this isn't all about one year, this is one team that simply can't afford to fold.
The Pirates needed a boost as much as any contender out there. Tuesday, Huntington provided it.
Byrd isn't a star. But Byrd will do.
"You're buying in on a rejuvenated player having a career year," said one scout who follows the NL East. "That's a good move for the Pirates."
Yes, it is. Trading for Byrd doesn't guarantee the Pirates anything, but it reminds Pirates fans -- and Pirates players -- that the front office cares as much as they do.
Byrd fills the biggest need the Pirates had, giving them a right-handed hitter who plays right field.
The Pirates have used eight different right fielders, and they've combined for a .665 OPS, dead last among the 30 teams in the majors. Byrd's .845 OPS ranks fourth among full-time right fielders, behind only Carlos Beltran, Jose Bautista and the suspended Nelson Cruz.
Byrd's OPS is even better (.980) against left-handers. The Pirates can use a boost against lefties, especially with Starling Marte on the disabled list.
Even in late July, when Marte was healthy, the Pirates looked like a team that needed a boost. Huntington seemed to acknowledge as much, even as he explained why he didn't complete a trade before the non-waiver deadline.
"We were willing to do something stupid," he told reporters then. "We just didn't want to do something insane."
What the Pirates did Tuesday wasn't stupid. Dilson Herrera, the infielder who goes to the Mets (along with a player to be named), is a 19-year-old kid in low A-ball. The Mets are saying they like him as a defender and a hitter, but the Pirates have better prospects who are closer to the big leagues.
Meanwhile, they have an opportunity that may not come up again. I'm not saying it's 2013 or bust, not at all. But as the Nationals are proving this year, you can't take for granted that you'll keep getting chances, even if the talent seems to be there.
Huntington doesn't work under optimal conditions, with an owner and club president who don't mind meddling. Some of the criticism he gets has been justified, but he deserves credit for building a team that can compete, and now he gets credit for giving that team a better chance of winning.
L.A. manager Dave Roberts indicated that Puig's benching was related to more than one inci...

Manager Torey Lovullo said so on Monday
Let's see how SportsLine forecasts the race for MLB's 10 playoff spots

Monday kicks off the final week of MLB action. Let's take a look at everything that went d...

No other rookie in baseball history has hit more home runs than Judge has this year