Pirates' berth should end tension between front office, owners
The Pirates might not be a favorite come October, but all that matters is that they're in the playoffs. And the entire organization deserves credit.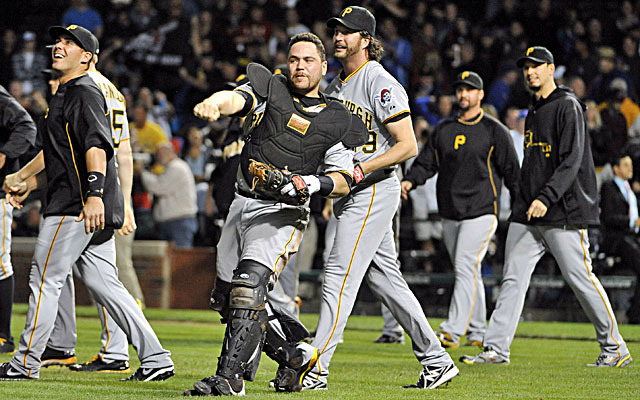 There was pressure on the Pirates this year, more than you'd think.
They hadn't won in 20 years, but this was the year it had to end. There was a real chance that general manager Neal Huntington's job depended on it, and perhaps manager Clint Hurdle's job, as well.
Even though the Pirates extended both men's contracts this spring, owner Bob Nutting showed up right after that and declared that the extensions should not be read as "a free pass," and that he was willing to fire people and eat contracts.
"The mindset is we must take a step forward," Nutting said.
Step taken. Two steps taken, in fact, two big steps.
The Pirates clinched a winning season with three weeks to spare, and now they've clinched a playoff spot.
And now Huntington, Hurdle and the entire organization deserve a lot of credit and a little bit of security.
Huntington took some chances that paid off greatly: trading for A.J. Burnett, signing Francisco Liriano, trading closer Joel Hanrahan and turning the back end of the bullpen over to Jason Grilli and Mark Melancon. He understood the value Russell Martin would bring, and made sure to get a deal done with him before any other team stepped up its offer. Last month, when the Pirates needed a boost, Huntington traded for Marlon Byrd and Justin Morneau.
Hurdle kept the Pirates focused on now, when everyone around them wanted to ask if this was just going to be like 2011 and 2012. The Pirates got off to good starts in those years, only to fall back under .500. It's not easy to turn around the culture in a clubhouse that has lost year after year, but Hurdle did it.
But this is a scouting and development story, too. Scouting director Greg Smith, the guy who drafted Justin Verlander for the Tigers, spent the first pick of the 2011 draft on Gerrit Cole. Cole came up in June and won his first four starts. And the Pirates have won each of his four September starts. The Pirates' farm system also produced an impact hitter in Starling Marte, and an All-Star starter in Jeff Locke.
The Pirates deserve the praise, but it's worth remembering that Nutting set the goal higher than this. He said that winning a World Series is the only goal that matters in the end, and called ending the streak of losing seasons "an inappropriate target."
This team won't go into October as a favorite. The Pirates may not even get an October home game. They're battling the Reds this week for the first wild-card spot; if they finish behind the Reds, they'd need to win the wild-card game next Tuesday in Cincinnati to get a game at home.
Given how the Pirates have brought excitement back to Pittsburgh and to one of the best ballparks in baseball, having no home games in October would be a shame.
No matter what, no one can deny that the Pirates have taken a step forward, or two steps forward. But the pressure likely won't go away.
Even when the Pirates were playing well early in the season, there was talk around baseball of tension in the front office, and tension between the front office and ownership. Pirates people denied it, but the talk persisted.
There shouldn't be any tension now. There should just be celebration.
The Pirates deserve it.
Could catcher J.T. Realmuto be the next Miami player to be traded?

If the slow-play for Martinez, Hosmer and Arrieta sounds familiar, it should

The Nats will host the All-Star Game in 2018
The Orioles are looking to trade Machado heading into his walk year

The Cardinals have been linked for a while to the Baltimore star

Gallardo spent the first eight years of his career in Milwaukee