Pirates catcher Russell Martin beats Reds, makes Yanks look bad
Martin, the clutch catcher, hit two home runs to lift the Pirates into the Division Series vs. the Cardinals.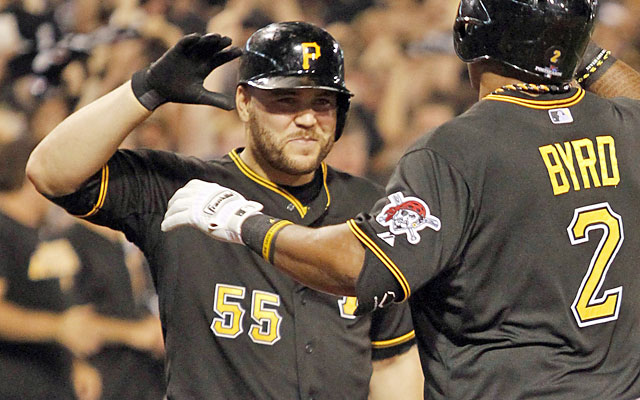 PITTSBURGH -- Russell Martin has a knack for having his best games in the biggest spots. He hit two home runs once before this year, against the rival Cardinals. He's hit two home runs in a game a pretty fair amount for a guy who isn't a slugger, and the last two times he did as a Yankee, and did it against the Red Sox and the Mets.
But this was the biggest two-homer game of his career, there isn't any question about that. Martin, the Yankee who wasn't wanted back, drilled two dingers to left field to deliver the Pirates a 6-2 victory over the rival Reds in their first playoff game in 21 years, a do-or-die affair that sent the fans into delirium from the start.
"My hands were a little bit quicker than usual,'' Martin said afterward. He wasn't kidding, either.
"I'm telling you, man," he said. "The crowd gave me energy."
Martin is the sort of guy who credits the crowd, the starting pitcher (Francisco Liriano), anyone but him. He brings a lot to team -- power, an arm and even decent speed for a catcher -- without telling you about it.
But maybe he should have said something when he was a Yankee, because they sure as heck didn't seem to notice. General manager Brian Cashman, who acquired him, was said to be a fan. But for whatever reason, the Yankees barely tried. The low batting average didn't look great, but in this day, we should be past the idea that batting average is everything, or anything. Martin gets on base by walking, he hits timely homers and he wins.
There were whispers someone else with the Yankee hierarchy didn't love Martin, someone below Cashman. But whatever, it's apparent the Yankees didn't appreciate him. They talked about concepts in the range of $12 million or $14 million for two years, an insult.
Ulimately, the Yankees never made an official offer, never got into the game, not really. They would spend their $230 million elsewhere, on aging pitchers (Andy Pettitte, Hiroki Kuroda), on a great pitcher (Mariano Rivera), and eventually on an aging outfielder (Ichiro Suzuki) and an aging third baseman with a bad back (Kevin Youkilis). So Martin took $17 million over two, and went to Pittsburgh, secure in the knowledge he was going where he was most wanted.
Instead, the Yankees went with Francisco Cervelli, who suffered an injury then a suspension, and Chris Stewart, who stopped hitting at all sometime around June.
Martin, who hit .226 with 15 home runs as a Pirate, doesn't look back much these days, doesn't need to. If he ever spent much time worrying about the Yankees, he no longer does.
"It's not really something I think about much ... I'm not a GM, and I don't think I will ever be one,'' Martin said. "I enjoyed my time there playing with legends. But it feels like home here."
The young Pirates team has come together in a hurry, and they are enjoying this ride together. Martin is looked upon as a sage leader, at 30. "You can sense a brotherhood,'' he said. "It's a good group of guys. It's really special being on this team."
From the start, they knew they had pitching and talent. 'But," Martin noted, "a lot of teams have that and don't pan out."
This is a team of grinders, he said, and you can believe that. There's only one superstar, and that is near-certain MVP Andrew McCutchen.
Martin, a solid player with skills, was only a superstar for this one night. He took advantage of Reds pitcher Johnny Cueto's probable concentration lapse. With the crowd chanting "Cue-to," the Reds' pitcher dropped the ball and let it roll off the mound. One pitch later, Martin took him deep.
"It felt like I was floating around the bases," Martin said.
Then, five innings later, he drilled one 419 feet into the lower pavilion in the left-field corner off Reds reliever Manny Parra. The only other time a Pirates player homered twice in a postseason game, Bob Roberstson did it in 1971 (Robertson actually had three homers that day). So Willie Stargell never did it. Or Barry Bonds. Or even the great Roberto Clemente, the all-time Pirate who had that knack in the big game.
"It's definitely special,'' Martin said. 'I'm going to remember it a long time. But [with the Cardinals coming up] I"m going to try to forget it quickly."
One thing he has forgotten is his exit from the Yankees. It doesn't matter now. He is home.
Wright was arrested at his home Friday

The former Tigers teammates were voted into Cooperstown by the 16-person Modern Era Commit...

The Yankees still have room for a good-sized signing even after Saturday's trade with Miam...
St. Louis gets some much needed help for their bullpen

Keep tabs on the top 50 free agents right here

Morrow thrived with the Dodgers last season