Pirates even NLDS with big Game 2 win over Cardinals: Quick hits
The Cardinals clobbered the Pirates in Game 1 of the NLDS on Thursday, but the Buccos returned the favor and evened the series at one apiece on Friday.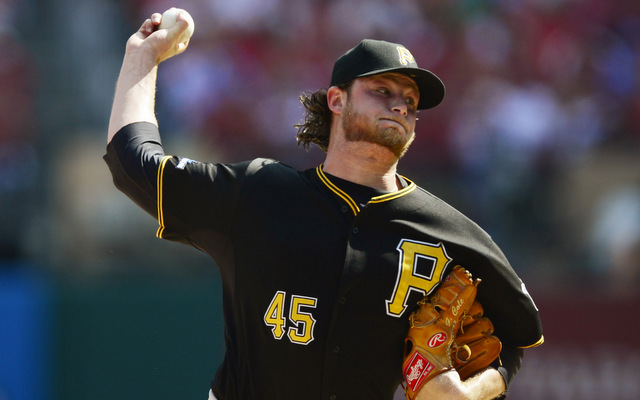 Who has the edge? Pirates-Cardinals | Dodgers-Braves | Tigers-A's | Rays-Red Sox
After getting pounded in Game 1 of the NLDS, the Pirates rebounded to even the best-of-five series at one with a 7-1 win on Friday afternoon. Let's have a closer look as the series gets ready to change venues.
Hero: Gerrit Cole. The 23-year-old right-hander, who made his MLB debut in June, held the best offense in the league to one run on two hits and one walk in six innings of work. Yadier Molina touched him up for a solo homer in the fifth, but otherwise the Cardinals didn't have a batter reach third base against the Pirates right-hander. If that wasn't enough, Cole opened the scoring with a two-out single in the second. The kid did it all on Friday.
Goat: Lance Lynn, but he doesn't deserve all of the blame considering his defense wasn't up to snuff. Most egregiously, Jon Jay misread a Pedro Alvarez fly ball and turned it into a double that led to the first run. Still, Lynn allowed seven hits (including three doubles and a homer) and walked three in just 4 1/3 innings of work, resulting in five runs. Six strikeouts are nice, but that's not good enough to win a playoff game aginst a 94-win team.
Turning point: Although Cole opened the scoring with his base hit, it was Alvarez's two-run homer in the third that moved the needle firmly in Pittsburgh's direction. A 1-0 lead is nothing against a great offensive club, but 3-0 is much different story.
It was over when: Carlos Beltran (strikeout) and Matt Holliday (groundout) failed to do anything with a man on first in the sixth. The Pirates were up 5-1 at the time and that was the perfect opportunity -- man on base with their two best hitters up against a pitcher nearing the end of his rope -- to start climbing back into the game. They couldn't do anything against Cole, the inning ended, and the Pirates then tacked on two insurance runs.
Next: An off-day before the series shifts to Pittsburgh for a pivotal Game 3 on Sunday. That game will begin at 4:30pm ET and will feature left-hander Francisco Liriano against right-hander Joe Kelly.
Neither Josh Donaldson nor Brian Dozier have talked about a new contract extension

Francisco leads the Dominican Winter League with seven home runs

Thome deserves enshrinement and here's why the case against him does not hold up
The Twins have already fortified the bullpen with Addison Reed, and now they want to address...

The Orioles likely want pitching, and the Indians have plenty of it

Halladay died in a November plane crash off the coast of Florida