Pirates, Jason Grilli bounce back as Pittsburgh drama increases
Questions regarding the Pirates following Friday night's train wreck against the Reds? They were answered Saturday. A.J. Burnett was brilliant over seven innings, Jason Grilli earned his first save in two months and the Pirates were back in business in a showdown series with the Reds. ...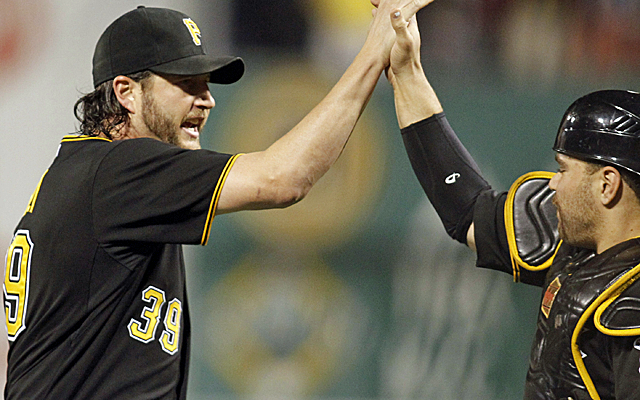 PITTSBURGH – Here's the thing about this summer's Pirates: Games that blow up on them as spectacularly as Saturday's late-night fireworks over the Allegheny River, they don't blink. They don't shrink.
They hand the ball to A.J. Burnett. He snaps off one geometrically impossible curve after another to Russell Martin. Then Jason Grilli comes in and – wait. We'll get to him in a minute. Oh, yes we will.
The Pirates have talked about this for much of the summer and, increasingly, over the past several weeks. Certain tough losses the past couple of seasons, the Pirates wilted. Now, they're resilient.
They've grown up. They wear big boy pants now.
Saturday's 4-2 comeback win over Cincinnati in the encore presentation to Friday's ugly ending was all about these things. Except, scratch ugly in conjunction with Friday. Make it hideous.
There was talk around Pittsburgh following the crushing, series-opening 6-5 loss, that it was the most painful game for this franchise since Game 7 in the 1992 National League Championship Series.
I don't know about that. These Bucs are headed to the playoffs. And what I do know is moments like Burnett's 107 pitches and Grilli's emotional return to the ninth inning not only are reasons why they're headed to October, but real-time explanations as to why and how they can still do some significant autumn damage even if the Cardinals win the NL Central, something that is becoming more and more likely every day.
Everyone wondered how the Pirates would react following the gut punch administered by the Reds on Friday. How they reacted was, Burnett stood tall and struck out 12 batters, his highest total since Aug. 27, 2009, when he was wearing Yankees pinstripes.
Russell Martin erased an early 2-0 deficit by belting a two-run homer in the second following Gold Glove first baseman Joey Votto's error.
And Grilli, in earning his first save in exactly two months – July 21 at Cincinnati – re-entered the Pirates' closer equation.
After the game, manager Clint Hurdle said he isn't yet ready to write bullpen roles for the last week and beyond in permanent ink. But following Mark Melancon's rough 72-hour period in which he was tagged with two blown saves, the drama is high.
"Stay tuned," Hurdle said.
Then, in a juicy hint, he added: "We like Jason at the end. Mark has been effective."
Grilli jogged out for the ninth inning to a standing ovation from the crowd of 39,425 – the 22nd sellout at PNC Park this season – in a very nice moment for a guy who went missing for six weeks with a right forearm strain.
"He could have been back earlier," Hurdle admitted. "Probably, that one's on me."
Basically, Hurdle said, in attempting to arrange things so that Grilli was just so and the Pirates were properly positioned, maybe he was looking for perfection when perfection wasn't to be found.
Grilli allowed a soft leadoff single to Ryan Ludwick … but then immediately induced a double-play ground ball from Jay Bruce. Zack Cozart followed with another ground ball, and suddenly things began to look very familiar again in Pittsburgh.
"This game is constant change," said Melancon, who spent the night as a spectator. "You've got to evolve with it. That's what I've been doing the whole season, pitch by pitch."
Melancon said he was thrilled for Grilli – and on this close-knit bunch, in this particular Shark Tank, you believe him – and added "I'm not panicked by any means."
Grilli, as you can imagine, was eager to return to the ninth inning, even if he had surrendered runs in three of six appearances since his return from the disabled list. Hey, as Hurdle said, he's an adrenalin pitcher. There is no adrenalin like the ninth inning, and Grilli hadn't been able to get his fix until Saturday.
He was in position because of Burnett, who was spectacular. The Pirates had him retiring 10 Reds on three or fewer pitches, plus the 12 strikeouts. Martin, who also caught Burnett with the Yankees, said "that might have been the best curveball I've seen him have."
After allowing two runs on three hits in the first two innings, he shut down the Reds on only one hit the rest of the way. It wasn't only the curve: After Zack Cozart ripped a four-seam fastball for a home run in the second, Burnett junked the pitch for the rest of the night.
"I didn't feel the four-seamer early, and I didn't want to try to find it," Burnett said.
Right now, there is no time to search for weapons that might not be there. In winning, the Pirates remained two games behind St. Louis in the NL Central and shoved Cincinnati to three back.
Now, don't be surprised if they go back to Grilli for more ninth-inning fun.
"I want to play, like everybody else," Grilli said, thrilled to be back in the mix. "I'm not here to be the waterboy. I'm not here to make sure everybody has enough seeds.
"I want to play. It's not fun to watch. Maybe for the coaches, but not for us."
Neshek and the Phillies are closing on a two-year contract

And the team that first drafted Cole is interested

This scout was SUPER into Jeter
Stanton warned Marlins fans about the lean years that are forthcoming

The World Series champions aren't complacent

Stanton swiped at his old team on his way out