Pirates looking at Morneau after landing Marlon Byrd
Pittsburgh wants to continue to lengthen its lineup.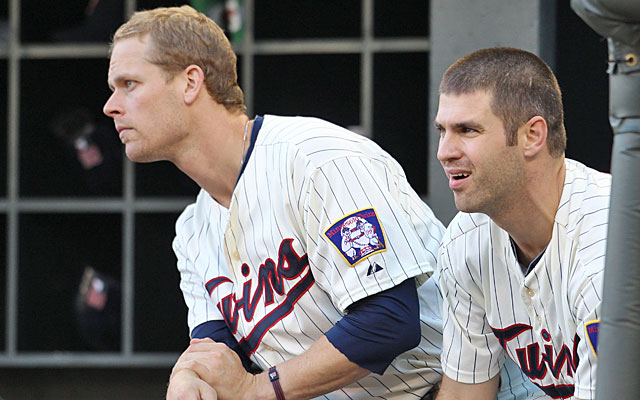 The Pirates upgraded their offense with their trade for outfielder Marlon Byrd on Tuesday, and they have their eye on Twins star first baseman Justin Morneau now.
Morneau, the former AL MVP, would appear to be their next target following the trade with the Mets that netted them Byrd and catcher John Buck, as the Pirates continue to address offensive needs as they battle the Cardinals atop the NL Central Division.
Pirates GM Neal Huntington has likely locked down NL Executive of the Year honors after winter trades and signings secured Francisco Liriano, Russell Martin and Mark Melancon. Now he is looking to secure the Pirates' first playoff spot since 1992 (the first winning record since that year is a fait acccompli at this point). Huntington said on MLB Network that he liked the Byrd trade because it helped "lengthen" their lineup.
With right field an issue most of the year and Starling Marte out with a hand issue at the moment, Pittsburgh could use one more hitter. They could try to utilize Garrett Jones in the outfield if they were to acquire Morneau.
Morneau has cleared waivers, and word has been that the Twins are willing to pay some of the close to $3 million left on Morneau's $14 million salary, depending on the prospect worth returned in a trade. The Pirates showed they are willing to dig into their farm system when they sent middle-infield prospect Dilson Herrera and a player to be named to the Mets, but so far they've deemed the Twins' requests as high.
While Minnesota has attachment to Morneau, the 2006 MVP and half of the vaunted pairing with Joe Mauer, the Twins have signaled a clear willingness to trade him. The Orioles showed some interest last month, while the Indians and A's are among other teams that make some sense. The Yankees, pleased with cost-efficient pickup Lyle Overbay, are said by a source not to be in on Morneau at the moment.