Pirates name Gerrit Cole Game 5 starting pitcher
It's going to be rookie Gerrit Cole, not veteran A.J. Burnett starting Game 5 of the NLDS for the Pirates against the Cardinals.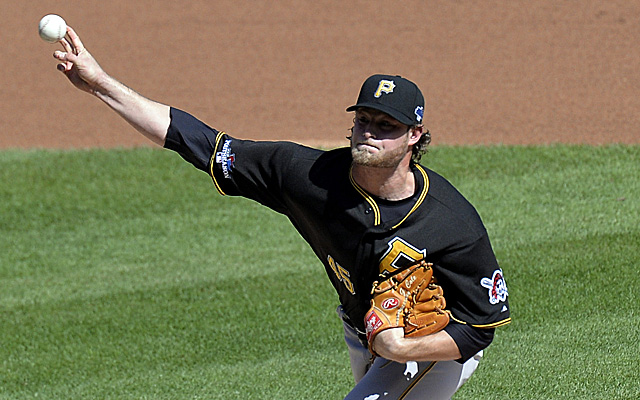 Michael Wacha carries Cardinals in Game 4 win | Cardinals get just enough offense
The Pirates have made a decision on a Game 5 starting pitcher, and it's not veteran A.J. Burnett -- who started Game 1. Instead, it's rookie right-hander Gerrit Cole.
"We have one game to win," manager Clint Hurdle said after the game in a press conference. "As I've done and I've challenged the guys to do, we need to do the best we can to win that next game. I believe that matchup is the best we can do to beat the Cardinals in Game 5."
Cole, 23, was 10-7 with a 3.22 ERA, 1.17 WHIP and 100 strikeouts in 117 1/3 innings this season. In Game 2 of the NLDS against the Cardinals, he dominated for six innings, allowing only one run on two hits while striking out five.
Burnett, on the flip side, was brutal in Game 1. He gave up seven runs on six hits and four walks -- while not striking anyone out -- in two-plus innings. He gave the Pirates no shot.
So that means Cole is tasked with the tall order of matching pitches with Cy Young contender Adam Wainwright -- who went 19-9 with a 2.94 ERA in the regular season and dominated the Pirates in Game 1 of the series. Should be fun.
The projections continue to favor an Astros-Dodgers World Series

The story centers around a building in Chicago, where Billy Jurges was shot by a jilted lo...

From 1 to 25, the L.A. Dodgers have the squad to overcome the pitfalls of October baseball
After Tuesday night's win over the Cubs, the Dodgers are now 6-0 in the 2017 playoffs

Los Angeles beat Chicago once more in Game 3 of the NLCS in Chicago

The 2017 World Series begins Oct. 24