Pirates owner puts pressure on, demands 'a step forward'
Despite giving contract extensions to general manager Neal Huntington (last September) and manager Clint Hurdle (this week), Pirates owner Bob Nutting demanded Wednesday that the team take "a step forward" this season. Nutting didn't define exactly what that means, but said the extensions shouldn't be read as "a free pass."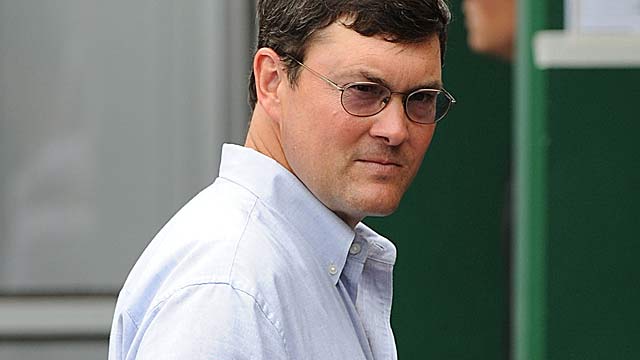 Pirates owner Bob Nutting: 'The mindset is we must take a step forward.'
(Getty Images)
BRADENTON, Fla. -- It's hard to go anywhere at Pirate City without someone reminding you that the Pirates won 22 more games in 2012 than they did in 2010, or that last year's 79 wins tied the most by a Pirates team in the last 20 years.
As if that was really some great accomplishment.
The Pirates extended general manager Neal Huntington's contract last September, and they extended manager Clint Hurdle's contract this week.
Then, on Wednesday, owner Bob Nutting arrived to put the pressure back on.
Nutting repeated the 22-win improvement organizational mantra, and expressed support for what Huntington and Hurdle have done. But he also made it very clear that despite the extensions, no jobs are really safe in an organization that has gone this long without real success.
"The mindset is we must take a step forward," Nutting said. "We expect to win. I expect to win. Clint expects to win. Neal and [club president Frank Coonelly] have the same expectation.
"The idea that an extension is somehow a free pass is exactly the message I would not want to send, and not the message Clint heard. We've shown we're willing to make a change if we need to, irrespective of the contract terms."
So there you have it.
Pressed on what would constitute "a step forward," Nutting refused to get any more specific. He said that winning a World Series is the ultimate goal, and the only one that matters in the end.
He praised Huntington for not seeking short-term solutions that might have ended the club's record 20-year run of consecutive losing seasons, and said that simply having the first winning season since 1992 would be "an inappropriate target."
And he insisted that the Pirates already have the talent to compete, basing that assessment on the 63-47 record through early August last year. The Pirates went 16-36 from that point on, a second straight late-season collapse.
Nutting spoke of having the highest payroll in Pirates history (about $60 million). What he didn't say is that the Pirates will still have the lowest payroll in the National League Central. In all of baseball, only the Astros and Marlins will clearly lower payrolls than the Pirates.
The Pirates made one significant free-agent acquisition over the winter, signing catcher Russell Martin, but Pirates fans and players still remember the lack of a big move at last year's July 31 deadline.
Nutting suggested the money and commitment would be there this July, although he also suggested that he prefers doing his biggest business in the winter.
"We need to get to the trading deadline in a strong position," he said. "We've got to take a run. We've got to push our chips in early."
They've got to take "a step forward."
Or else.
This scout was SUPER into Jeter

Stanton warned Marlins fans about the lean years that are forthcoming

The World Series champions aren't complacent
Stanton swiped at his old team on his way out

Your one-stop shop for all things MLB Winter Meetings-related

Matt Harvey could be on his way out of New York