Pirates' patience with Pedro Alvarez now paying long-distance dividends
Tied with Arizona's Paul Goldschmidt for the National League lead with 31 home runs, Pedro Alvarez regularly is knocking balls into the distance, just as the Pirates always thought he would. ...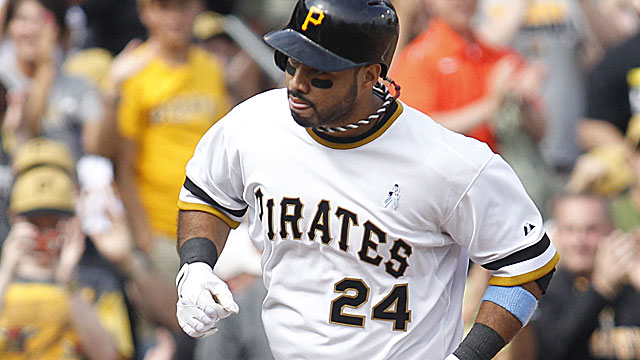 The countdown now is reduced to eight. Eight more victories, and you can call the Pirates something you haven't been able to since 1992.
Adorable. Winners.
A couple of more Pedro Alvarez swings ought to move that needle.
"Obviously, it's always a work in progress," Pittsburgh's slugging third baseman says. "Anytime you can see some positive results, it's a huge accomplishment and it makes people happy."
After the way this guy has worked … and worked … and worked … the happiness is spreading. Both from within and outside.
After coming into his own with 30 homers last season, Alvarez now is tied with Arizona's Paul Goldschmidt for the National League lead with 31 homers this season.
He's deposited baseballs over fences twice in his past five games, and he's collected the highest homer total by a Pirates' lefty in more than a decade. Brian Giles had 38 in 2002.
He's also only two RBI short of equaling last year's career-high 85 after driving in seven runs over his past six games.
"This year has been a lot of fun," he says. "Playing with these guys, winning some games."
This guy ought to be able to readily identify "fun," because his first few steps in the majors were the complete opposite of it. Take 2011: .191 batting average, .289 slugging percentage and just four measly homers over 74 games.
They were trying times in Pittsburgh: Alvarez tried and tried and nothing worked. But here's the thing when you sign a major-league contract right out of the draft: You usually land in the majors before you're ready, plopped down in a package marked "Express."
The Pirates' first-round pick in the 2008 draft – the second overall pick – Alvarez signed a major-league deal worth $6.355 over his first four years. Just 22 at the time, he was in the bigs at 23 with big expectations and a team that still wasn't ready for prime time.
Now?
"He's doing what he's supposed to do," outfielder and MVP candidate Andrew McCutchen says. "If you ask him, I'm sure he'll tell you he can do better.
"It's been tough, because he's had to learn in the big leagues."
Difficult as that was, it was simply a byproduct of time and place. The Pirates, you might have heard, were a mess for most of the past couple of decades and general manager Neal Huntington's plan to overhaul and rebuild by stocking the organization with young talent was lacking in only one key area: Speed.
There was no way to rush the young talent straight past the Learning Curve Moments. Not even when the kids were playing for the Double-A Altoona Curve.
Manager Clint Hurdle's first season on the job, 2011, coincided with some of Alvarez's roughest moments. Yet the boisterous former Rockies manager continually exhibited one key managerial trait: Patience.
"It's an organizational vision as much as anything," Hurdle says. "As manager, you do get to make out the lineup. You always try and factor risks vs. rewards. When the risk times come, the challenging times, you need make sure you continue to communicate with the player, you try and get as good a feel as you can for the mental makeup, the physical toughness they have, the mental toughness that comes with it.
"And you bet on the guy."
As Hurdle worked with Alvarez, he saw nothing that told him the failures were putting the kid at risk in his development.
"In my conversations with Pedro, in the years that I've been here, he's been confident through challenging times, he continues to work the right way, he has the right focus and preparation," Hurdle says. "You need to go out and let him play because he has the skill and talent that's hard to find.
"You want to make sure you give him the opportunity, even through the challenging times, to go out and develop. We've done that. We do believe that he's headed in the right lane to become a prominent run producer in the major leagues, let alone in the National League."
He sure is.
He's also still a prominent whiffer, leading the NL and ranking third in the majors with 154 strikeouts. But nobody says this guy is anywhere close to a finished product.
As Alvarez himself says, he'd like to continue to improve in "everything, because you don't know how you're going to help the team win" each night. Might be with a home run. Might by fielding a ground ball and starting a double play. Heck, it could be by being savvy enough to read when a pitcher is tipping his pitches.
While Alvarez appreciates the way Hurdle has backed him, the gratitude goes far beyond the manager's office.
"It hasn't just been Clint," Alvarez says. "It's been everyone. Teammates. Coaches. The front office.
"I'm grateful for the opportunity, for the chance to grow as a player and a person. The one thing you can't teach in this game is experience.
"And the only way to get experience is by playing."
More than ever, Alvarez now trusts himself and trusts the work he's put in over the years. You can see it in the way he plays.
"Trust, trust, trust," Alvarez says. "It's a very big and interesting word. Some associate trust with confidence. Or, it can mean a lot of different things.
"For me, it's trust in preparation. In the long run, for me, it's trust in preparation, and things will work out."
They have, and they are, for both Alvarez and for the Pirates.
Eight more wins gets them to 82. And that will be a time for all of Pittsburgh to rejoice.
But there is so much more these Pirates want to do, so much more they think they can do. Don't expect them to pop the champagne corks at 82 wins. That's just a mile marker along the way, not the final destination.
Arrieta is the top starting pitcher left on the market

The Angels are lowering the fence from 18 feet to 8 feet, so we should see a jump in home...

Mathis is one of the best at something that cannot be measured but is valued
J.D. Martinez is reportedly headed to Boston on a free-agent contract

Keep tabs on the top 50 free agents on the market right here

Arizona didn't waste much time turning to its fallback option following Martinez's deal with...