Pirates pitiful late-season collapse has GM Huntington on hot seat
General manager Neal Huntington's status appears to be in question following the latest Pirates' slide that has them in jeopardy of making it 20 straight losing seasons.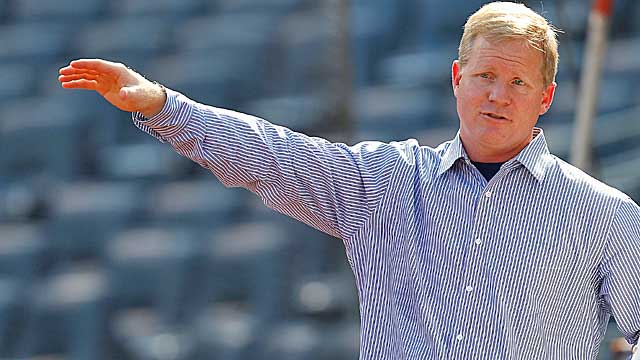 GM Neal Huntington could be out of a job if the Pirates finish below .500 again. (Getty Images)
The Pirates are unspeakably bad right now, which some might not view as news at this time of year. They've made a habit of second-half collapses, but this one seems to hurt worse since there was promise for something better this time.
The playoffs are basically out of the question after a sweep by the Brewers, who never lose to the Pirates, which has left Pittsburgh below .500 for the first time in months, at 74-75. They've lost 11 of 13, 15 of 19 and 21 of 28 to play themselves out of a chance at the second wild card spot.
The first question now is: Can they somehow cobble together enough wins to get back over .500 and complete their first winning season since the small-headed Barry Bonds left town? They have series with the bad Astros and the Mets upcoming, so the Pirates have a shot to recover.
But there's the question of how ownership responds if they don't recover and instead make it 20 straight losing seasons.
And there's one more question: If they finish below .500 again, might the jobs of one or more of their key baseball people be in peril?
Neal Huntington, the general manager who's overseen a slow rise since his appointment late in the 2007 season, has now seen two straight late collapses after promising starts, and whispers are becoming louder that his job status may not be completely secure.
The major-league tams and prospects have improved in Huntington's tenure. But is it enough?
One rival high-ranking executive said he blames ownership. "They didn't spend the money,'' that person said. With limited resources, Huntington acquired Wandy Rodriguez, Gaby Sanchez and Travis Snider at the deadline this year.
Pirates ownership has been dogged for years about their tight budgets, though in recent years, they've spent more on the drafts, and Huntington signed heralded young pitchers Jameson Taillon and Gerrit Cole. But there have been missteps, too.
Hard-throwing high draft choice Stetson Allie had to be converted from a pitcher to a hitter after abject wildness on the mound and is viewed as a likely wasted pick, and the choice of Mark Appel this year was a gamble that didn't pay off when Appel declined the Pirates' offer of about $3.8 million to return to Stanford, leaving Pittsburgh with more than half their money unspent from their smallish pool of $6.6 million.
The Pirates are definitely better. But a 20th straight losing season would be an unquestionable downer. And Huntington is the one who appears to be in the crossshairs.
Clint Hurdle, the perpetually upbeat manager, instilled initial confidence. And while no one is happy at the prospect of another losing season, one ownership source said about Pirates upper management, "They really seem to like Hurdle.''
In the last several years, lots of droughts have ended in MLB

The most likely scenarios are Dodgers winning in five or six games

Despite a seven-game ALCS, the Houston rotation lines up nicely for the World Series
Sabathia and the Yankees are a perfect fit for each other

Bregman threw out Greg Bird at the plate to preserve the Astros' lead

The 2017 World Series begins Oct. 24