Pirates signing Josh Johnson would be a good gamble
The Pirates are one of the finalists to land high-upside, reclamation project Josh Johnson, and the move would make a lot of sense.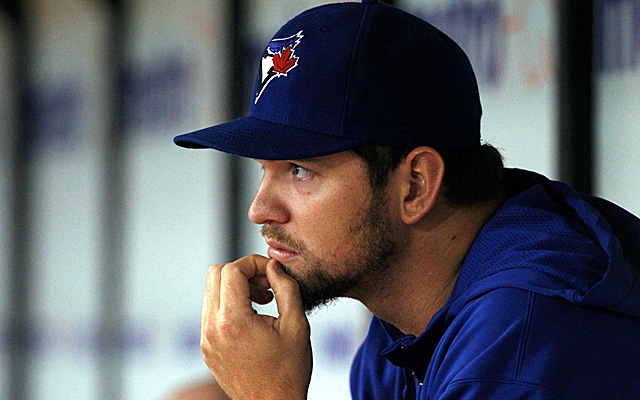 Free agent roundtable: Reclamation projects worth a gamble
Starting pitcher Josh Johnson couldn't have possibly hit the free agency market in worse shape. He's gone through multiple arm surgeries and is now coming off an injury-plagued season where an argument could be made he was the worst starting pitcher in baseball.
Still, we cannot ignore Johnson's track record. He led the NL in ERA in 2010 with a 2.30 mark. He started out 2011 with a 1.64 ERA through nine starts before injury ended his season. The two-time All-Star won't turn 30 until January, either, so he's far from over the hill.
And with that, I'd love to see a small-market contender like the Pirates take a shot at Johnson getting his groove back. They have a realistic shot at getting him, too, says Pirates beat writer Travis Sawchik:
Johnson's agent Matt Sosnick: "The Pirates are one of the teams he wants to consider at the end...The Pirates are on his short list."

— Travis Sawchik (@Sawchik_Trib) November 19, 2013
The Pirates already have five viable starting pitchers in house in Francisco Liriano, Gerrit Cole, Wandy Rodriguez, Charlie Morton and Jeff Locke. A healthy Johnson could easily unseat one of them -- Locke, if he continues to struggle as much as he did in the second half last season -- but there's still enough to get by without him.
Not only that, but top pitching prospect Jameson Taillon made six starts in Triple-A last season and may be ready to make the leap to the bigs midseason that Cole made last season.
That means the Pirates wouldn't be counting on Johnson, so anything he provided would be gravy. The upside is that there is potential for a Liriano-like rebirth.
Johnson showed flashes of still having an ace in there somewhere in 2013. On June 17, he struck out 10 in 7 1/3 shutout innings. His final outing of the season was Aug. 6, in which he worked five shutout innings, striking out five. He had three other outings of at least seven innings pitched with two or fewer earned runs allowed.
This isn't to say that all the bad outings should be discounted by a few good outings. Again, overall he was brutal and probably the worst starter in baseball. It's just that the few good outings should at least leave room for a glimmer of hope.
There's also this: Some advanced metrics show Johnson was pretty unlucky last season. His allowed .356 batting average on balls in play (BABIP) is ridiculous. His career mark there is .302. Also, his fielding-independent pitching (FIP) number is 4.62, well below his 6.20 ERA. His expected FIP (xFIP) was even better at 3.58. The 9.18 strikeout rate (K/9) was the best of his big-league career, too, so he hasn't lost the ability to miss bats. Allowing home runs was a huge problem for Johnson, thanks mostly to a huge jump in home runs per fly ball (18.5 percent, compared to a career rate of 8.2%).
Even if Johnson isn't nearly as effective as he used to be -- his average fastball velocity of 92.8 mph is down from what was once around 95 mph -- most of those figures should normalize and the strikeout rate is very encouraging in the face of the modest velocity drop.
Given the possibility that Johnson rebounds as a middle-of-the-rotation arm behind Liriano and Cole, he's absolutely worth a one-year, low-guaranteed, incentive-laden contract for the Pirates. The move would possess incredibly high upside with very little downside for Pittsburgh.