Pirates sticking with SEAL-inspired training despite prospect's injury
The Pirates are sticking with their Navy SEAL-inspired training, despite an injury to prospect Gregory Polanco. Former Pirate draft pick Mark Appel is also paying attention to the story and other potential Pirate picks might be, as well.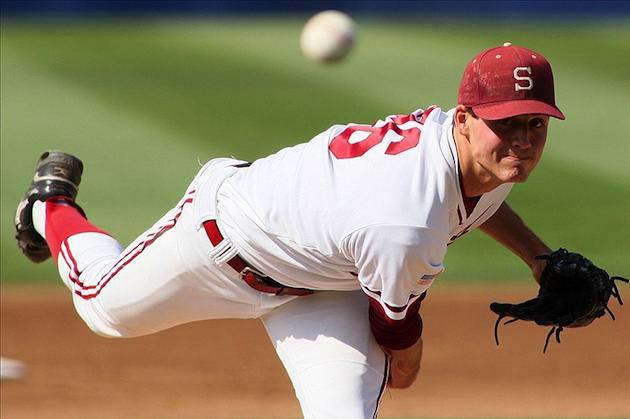 Mark Appel will pitch for Stanford next season, not the Pirates. (US Presswire)
The Pirates drew fire for their military-style training in the minor leagues earlier this season, and the outrage might grow louder. Despite ridicule and derision from the baseball world, the Pirates stuck to their training program derived from Navy SEAL training, and it has already injured one prospect, according to Pittsburgh Tribune-Review columnist Dejan Kovacevic.
But what might be even more interesting is who else is taking notice of these stories. Kovacevic tweeted out a link to his column, which described the Pirates' "Hell Week" for minor-league players in the instructional league and the injury to Gregory Polanco, a top-five prospect in the Pittsburgh system. Among those who retweeted the link was Mark Appel, the Pirates' first-round pick in last year's draft, who didn't sign with the team and will be eligible to be redrafted in 2013. For the Pirates to redraft Appel, they'd need his permission, and stories like this won't help.
As for Polanco, the 21-year-old center fielder was named the Most Outstanding Prospect at Single-A South Atlantic League, hitting .325/.388/.522 with 16 home runs and 40 steals in 116 games for the West Virginia Power. He missed most of August after suffering a sprained ankle. Polanco reinjured the ankle during the instructional league -- the Pirates said Polanco opted out of the "Hell Week" workouts to rest his ankle. Polanco -- and another player -- told Kovacevic that he reinjured the ankle during a drill in which Polanco ran across the outfield, through an above-ground pool of ice water and then jumped into a sand pit.
While Appel hasn't said anything about the Pirates' training program as a reason why he turned down the team's $3.8-million offer in July, it doesn't bode well for future dealings with top picks.
Appel was expected to go No. 1 overall, and when he fell to the Pirates at No. 8, his maximum contract was a lot lower than it would have been had he been picked at the top spot. He also had the option of returning to Stanford for his senior season. Most top prospects come into the draft process with some a backup plan -- be it going to college or returning to college -- and some might make that choice if drafted by the Pirates. And you can be sure, if those players aren't noticing, their "advisers" are.
For more baseball news, rumors and analysis, follow @EyeOnBaseball on Twitter, subscribe to the RSS feed and "like" us on Facebook.
The coveted right-hander would certainly be a fit in Milwaukee

We rate the best mustaches from random baseball cards because, why not?

Colon wants to break a Dennis Martinez record
The Twins have been rumored to be interested in Darvish all winter

Rolen is one of the best third basemen of all time, but you wouldn't know it based on this...

Neither Josh Donaldson nor Brian Dozier have talked about a new contract extension