Pitch -- wink, wink -- got away from Astros' Bud Norris
Astros starter Bud Norris doesn't exactly say he hit Milwaukee's Rickie Weeks on purpose Tuesday, but he strongly implied it.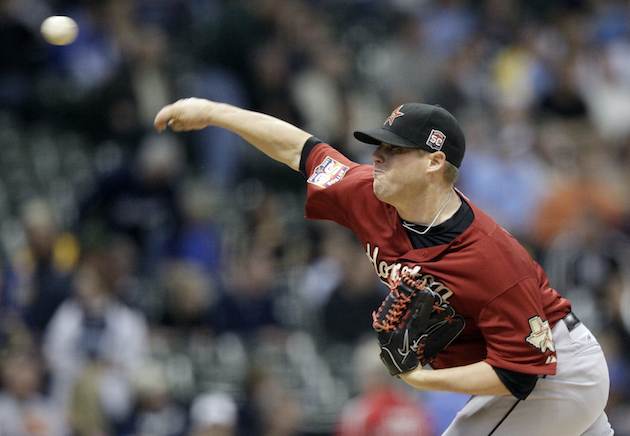 There are denials and then there's
Bud Norris
' non-denial.
Tuesday night
Astros
starter Bud Norris' first pitch was straight to the back of
Brewers
leadoff man
Rickie Weeks
-- a day after the Brewers'
Mat Gamel
ran over Houston catcher
Jason Castro
at home.
Norris was asked about the pitch after the game and offered a half-hearted denial, before screaming between the lines: "I HIT HIM AND I'D DO IT AGAIN!"
Here are the actual words,
as reported by MLB.com's Brian McTaggart
:
"It kind of got away from me. I'm going to go out there and stand up for my team. I think the umpires handled it professionally, our team handled it professionally and Rickie handled it professionally as well. Nothing personal against him. It is what it is."
What it was was hitting a batter on purpose.
Both teams were warned and then were no further problems, which may have been a tacit admission from the Brewers that Gamel was in the wrong. There's also nothing home plate umpire Rob Drake could do other than issue the warnings -- how was he to know if it was intentional, even if he had a strong inkling it was.
Castro didn't play in Wednesday's game, but Houston manager Brad Mills said it was a regularly scheduled day off for the catcher, who hit the back of his head on the ground after Gamel tried to bowl him over in the sixth inning. However, Castro was scheduled to start Wednesday's game, but was held out because his neck was still sore from the collision.
Tuesday's catcher, veteran
Chris Snyder
, said he didn't think Gamel's attempt to bowl over Castro was necessary, as Castro didn't block the plate.
"I didn't like it," Snyder said. "He had the plate. It's a 6-2 ballgame. I didn't like it."
Neither did Norris, apparently.
For more baseball news, rumors and analysis, follow @EyeOnBaseball on Twitter, subscribe to the RSS feed and "like" us on Facebook.
Marcell Ozuna figures to be the next Marlins star on the move

Several relievers have signed in the last two days

Several teams are interested in the switch-hitting first baseman
Neshek and the Phillies are closing on a two-year contract

And the team that first drafted Cole is interested

This scout was SUPER into Jeter