Pitching lined up for Pirates, Reds as showdown begins in Pittsburgh
With six games against each other set for the season's final nine days, Pittsburgh and Cincinnati will be riveted to their Pirates and Reds. So, too, will much of the rest of the baseball world.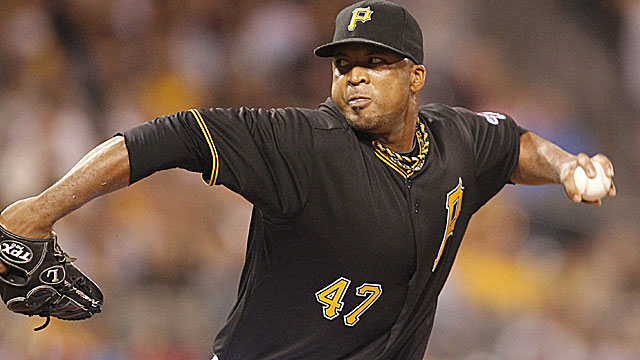 PITTSBURGH – Turns out, Thursday was National Talk Like a Pirate Day. Who knew?
Here in Pittsburgh, the Pirates don't need to talk the talk.
Because they spent Thursday regaining their ability to walk the walk.
Just in time, too, with the Reds showing up Friday as the National League Central race now enters a final sprint to the finish line.
"On top of that, it's our last three home games of the regular season," points out Andrew McCutchen, a leading contender for the NL MVP award. "There will be a lot of emotion with the fans, and we're playing against a team that's a contender as well."
Fun times.
The Pirates made sure to avoid what would have been a damaging four-game sweep by the Padres with a 10-1 romp, during which the pieces appeared to fall back into place for the final nine-game push – six of which are against Cincinnati.
Pedro Alvarez, 0 for his last 19, finally connected on only his third home run since Aug. 27.
Gerrit Cole won a third consecutive decision and fanned 12, giving him 28 strikeouts in his past three starts.
"He continues to grow up in front of our eyes," manager Clint Hurdle says.
And the Bucs bounced back from a bad, bad loss Wednesday in a game they needed – as much for their own mental well-being as anything. Not that their offense had disappeared, but boats were seen dragging the Allegheny River early Thursday in search of their bats.
Earlier in the week, Andrew Cashner became the first pitcher in Padres history to face the minimum of 27 batters in a game. And Wednesday, Tyson Ross shut out the Pirates until McCutchen blasted a two-run homer in the seventh. Closer Mark Melancon promptly coughed up the lead in the ninth.
So yes, talk like a Pirate or walk like a Pirate, Thursday afternoon's cruise was welcome.
"It's good for us go have a day like today, to propel us into tomorrow," McCutchen says. "We can sleep on this."
Well, you know what he means. And the Pirates' bats were not listening, so don't worry about that.
As for their pitching, Francisco Liriano is lined up Friday to start against Mat Latos, and A.J. Burnett will oppose Homer Bailey on Saturday.
The biggest news is that Jeff Locke is keeping his start Sunday against Bronson Arroyo. Hurdle and pitching coach Ray Searage have decided to stick with Locke despite his looking a bit frayed since the All-Star break.
Hurdle also said they've spoken with Liriano and Burnett to see whether either needed an extra day of rest at this point. As you can imagine, neither volunteered.
"We're going to stay on line," Hurdle says. "We'll see if we need to make an adjustment based on schedule, wins, losses, opportunity, non-opportunity. …"
This also means Liriano will be the wild-card for Pittsburgh in the season's final few days. After Friday, he is scheduled to start next Wednesday in Chicago … and then either the NL Wild Card game or Game 1 of the NL Division Series. But Hurdle also indicated the Bucs may go with Liriano on short rest in the season's final game in Cincinnati if the NL Central title is at stake.
"It's an option we've talked about," Hurdle says. "We've got a lot of things to look at. The way it lines up right now, if there were no changes, Liriano would be able to pitch the play-in game or in the first wild-card game, which isn't a bad option to have."
The next two weekends will be about keeping these options, both for the Pirates and for the Reds. 
Your one-stop shop for all things MLB Winter Meetings-related

Matt Harvey could be on his way out of New York

The Nationals are looking to improve on the edges of their roster
Ellsbury is due at least $68 million over the next three seasons

Wright was arrested at his home Friday

The former Tigers teammates were voted into Cooperstown by the 16-person Modern Era Commit...