Pitching plays, and the Orioles can't contend unless theirs improves
The Orioles made the playoffs last year, despite a starting rotation whose ERA ranked 21st in MLB. Now it ranks 25th, and they're slipping.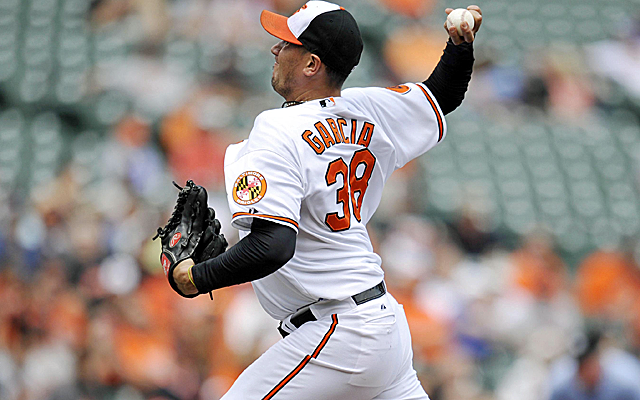 BALTIMORE -- The Yankees, with their makeshift lineup, have found a way to stay in first place in the American League East.
The Orioles, with their makeshift rotation, have not.
There's a lesson there, one that Orioles manager Buck Showalter tried to teach when he was asked the same question every Yankees opponent gets asked: Are you surprised?
"Pitching plays," Showalter said. "Pitching plays, regardless."
Pitching plays, especially starting pitching, and Showalter knows that the Orioles still don't have theirs figured out. They're still mixing, still matching, still churning, and still wondering if the supposed wonder kids will ever be able to help.
Somehow, the Orioles made the playoffs last year with a rotation that had a combined 4.42 ERA, which ranked 21st in baseball.
It was supposed to get better this year. Instead, it's been worse.
The Orioles entered play Monday with a rotation that had a 4.90 ERA, ranked 25th in baseball. They've used an MLB-high 10 different starters in just the first 43 games of the season, and they had 36-year-old Freddy Garcia on the mound as they tried to break a five-game losing streak Monday night against the Yankees.
Garcia pitched well Monday, giving up just two runs in six innings and handing a tie game to the Orioles bullpen. It wasn't his fault that the losing streak reached six, equalling the Orioles' longest skid of 2012.
The bullpen has been a bigger problem than the rotation this week, as Monday's blown save by closer Jim Johnson was his third in his last three chances. But the rotation remains a bigger long-term concern.
Colleague Jon Heyman suggested last week that the Orioles could trade for an ace this summer, but as he said, that won't be easy.
Perhaps that's why general manager Dan Duquette was suggesting Monday that the help could come from within. That means top prospects Kevin Gausman and Dylan Bundy, but it also means stalled prospects Jake Arrieta and Zach Britton.
While the Orioles have been saying that Gausman isn't ready yet, they expect him to pitch in the big leagues this summer. Bundy, slowed this spring by tightness in his forearm, is supposed to start throwing again in a couple of weeks, and the Orioles still believe it's possible he could help the big-league team this year.
The Arrieta and Britton cases are more complicated.
The Orioles aren't ready to give up on Arrieta, as any of the several teams that have tried to trade for him have found out. But they're not ready to put him back in the big-league rotation, either.
When he came back to the major leagues over the weekend, it was only because the team needed a fresh arm in the bullpen.
Britton remains in Triple-A, where he had a decent start Sunday, but only after a very bad one the time before.
"Ugly delivery," said one scout who has watched Britton. "Out of every 10 fastballs, there are two where you still say, 'Wow!' But the other eight are straight as an arrow, right down Broadway."
The Orioles will get Miguel Gonzalez back from the disabled list Tuesday. They're still waiting on Wei-Yin Chen, but Showalter said Monday that it will be at least another week before he can even begin to play catch.
They'll try to hang in there with what they've got, and they'll try not to let the lack of innings from the starters hurt a bullpen that has been a strength of the club.
Four times in the last eight games before Monday, the Orioles starter failed to finish the fifth inning. Only once in those eight games did an Orioles starter throw a pitch in the seventh inning.
The Yankees, for all the missing names in their lineup, have still been able to count on CC Sabathia and Hiroki Kuroda to work deep into games. Their starting pitcher has worked into the seventh inning seven times in the last 10 games, including 6 1/3 innings from Sabathia on Monday.
They're in first place. The Orioles aren't.
Pitching plays.
The Nats will host the All-Star Game in 2018

The Orioles are looking to trade Machado heading into his walk year

The Cardinals have been linked for a while to the Baltimore star
Gallardo spent the first eight years of his career in Milwaukee

MLB revenues are at a record high right now, but teams aren't spending it on players

Chicago added Tyler Chatwood earlier this offseason but might not be done adding to the ro...