Plan or plain luck, Red Sox GM Ben Cherington was the winter star
Rivals plot to copy Boston's winning strategy to sign solid players and clubhouse guys on shorter terms.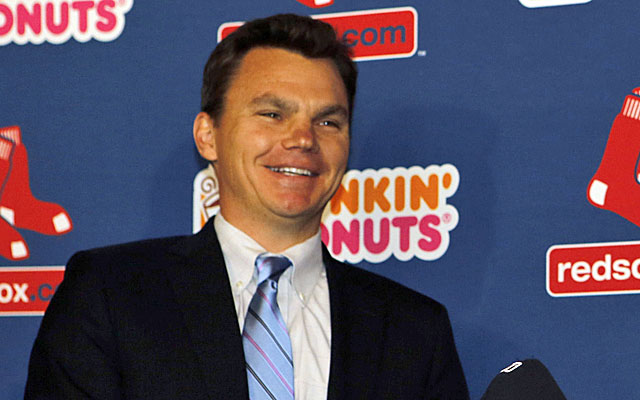 Ben Cherington, the obsessively low-key Boston Red Sox general manager, batted close to 1.000 this past winter with a series of so-called "mid-range" player purchases in what was viewed as one of big-market Boston's least glamorous buying sprees. It was such a success that rival execs are openly discussing copying the so-called "blueprint."
One Mets executive recently declared that "there's a lot of merit" to that strategy, no shock considering the seven new free agents without a superstar among them have helped Boston run away in the tough AL East. Many others are saying similar things, yet Cherington remains among the most reluctant of trendsetters.
The way Cherington talks about his team's call to eschew the usual mega buys and instead sign Shane Victorino , Mike Napoli , Jonny Gomes , Stephen Drew , Koji Uehara and others to deals of reasonable length, he makes it seem like happenstance, or maybe even half a step up from dumb luck. Cherington is a guy who can appear uneasy in the glare of the spotlight, and while anything's better than the negative swirl surrounding last year's last place Red Sox team, he also seems to disdain any sort of publicity, even the good kind. So it it's really no surprise he isn't much for credit taking.
"We had a number of holes to fill, and it felt like guys fit,'' Cherington, in his second year as Red Sox GM, said to explain the reasonable seven. "They just happened to be shorter deals."
Cherington admitted "always having a preference to keep the deals shorter,'' but even that seems to undersell the plan this winter, when they made several offers with seemingly high annual salaries and shorter terms, all to players with past successes and strong reputations for being positive clubhouse influences but imperfections on their resumes.
There's always an element of luck in the crapshoot known as free agency, but no one is completely buying that the Red Sox could score this big via only good fortune. Even if purposely limiting themselves to shorter deals for lower total dollars (but higher yearly salaries) wasn't really part of a grand plan, and maybe it was done mostly out of necessity, as Cherington implied, the Red Sox still must be commended for showing excellent taste.
A pretty fair case could be made that they went six-for-seven in their free-agent buys, a remarkable record in an arena suggested by many if not most in management to be dicey at best.
Victorino, by far the biggest buy at $39 million over three years (that's 50 percent more than Ryan Dempster , perhaps the least successful of the seven buys in terms of bang for the buck), is a former Phillies star whose mundane last half-year in Philadelphia got no better in Los Angeles last season. But he has sprung to life, hitting a robust .294 with 14 home runs and 58 RBI (and even better since he gave up switch-hitting to stay on the right side). Plus, as one rival GM said, "If he doesn't win a Gold Glove it's an injustice." This contract was lambasted as an overpay at the time, though several other teams were willing to pay about as much (and the Indians signaled that they'd even go to four years).
Napoli, at $5 million guaranteed that became $13 million including all the incentives on a deal re-negotiated down from $39 million over three years (a hip issue was discovered in the medical exam), has brought the sort of Fenway pop they hoped for, especially lately with his unreal 1.498 September OPS.
Gomes, at $10 million for two years, like Victorino, Napoli and the rest has provided clubhouse leadership plus occasional offensive thunder (12 homers). This one looked like a real reach, but as one Red sox person pointed out, there isn't a big difference between the $10 million he got and the $7 or $8 million others might have paid. "We (targeted) the guys we wanted, and made sure we got them."
Drew, at $9.5 million, also looked a bit high coming off an injury-affected year. But he's played a superb shortstop and is among the shortstop leaders in production numbers, especially in the second half. They love that he gets on base, and also that he, too, can drive the ball (.760 OPS, .811 since the break).
David Ross , at $6.2 million for two years, doubled his salary and startled his old Braves in so doing. But the Red Sox correctly figured it was important to solidify the catching ranks.
Uehara, at $4.5 million for one year (plus a vesting option that's naturally vested now), turned out to be the steal of the century. He was pretty darned good last year, as well, but as Red Sox folks admit, no one expected this. And this is utter domination (a 0.56 WHIP, 94 strikeouts against nine walks and a still going 37 straight batters retired).
Dempster might have been the only miss at $26 million for two years. It's not like he wasn't serviceable (and he gets points, too, from a few folks for nailing the disliked Alex Rodriguez with a pitch). But with Jake Peavy acquired at mid-year in a trade for young shortstop phenom Jose Iglesias , yet another player who worked out well for Boston (and now Detroit), Dempster and Felix Doubront look like they're destined to fill middle-relief needs in the playoffs.
Cherington's brilliant free-agency forays this winter don't even include Mike Carp , who came in an underpublicized spring deal after Carp had been designated for assignment by the Mariners.
Not counting Carp, who cost next to nothing and has an exceptional .921 OPS in a tough role, the Red Sox's total outlay for the seven free agents was $100.2 million guaranteed. With the $8 million in earned incentives for Napoli included, it's still only $108.2 million, or about $17 million less than what the Angels paid Josh Hamilton , who was never a serious consideration for Boston. The Red Sox apparently didn't see Hamilton as a great fit for their city, and as Cherington said, they had many spots to fill.
Cherington explains their thinking in simple terms that make sense. "We wanted good players. You can't win without good players,'' he said. "But we also wanted guys who wanted to be in Boston and all the challenges that come along with it."
Big stars Adrian Gonzalez and Carl Crawford made positive comments when they signed monster nine-digit deals a few years ago to come to Boston (Gonzalez's coming as part of a trade). But by the time they left less than two years later in the blockbuster trade with the Dodgers that worked out well for everyone involved, both those big-time players weren't quite so enamored with the "challenges" and happy to move on to more placid surroundings.
Anyway, it's all come together for the Red Sox with a band of players that fit their ballpark and their city. Cherington credits the manager everyone knows he wanted in the first place, John Farrell, and the coaching staff, which includes new pitching coach Juan Nieves, for being able to "make up for the things I've done that didn't work out."
Which, in reality, isn't too much at all.
This wasn't a traditional hidden ball trick, but the Blue Jays pulled it off

The Tigers essentially fired Brad Ausmus on Friday, but things are going to be ugly for a...

The club made the announcement on Friday
The Rockies are clinging to the second NL wild card spot at the moment

Plus Matt Olson and Kevin Kiermaier heroics, a look at Zack Greinke's dominance and more

Plus the Tigers will make a change in the dugout and all of Friday's action