Players, fans don't care, and Team USA shows WBC has yet to grow
The worst news for the World Baseball Classic wasn't that Team USA has too few American stars. No, the worst news is that American baseball fans don't really care that so many stars have chosen not to play. For now, the WBC remains all potential.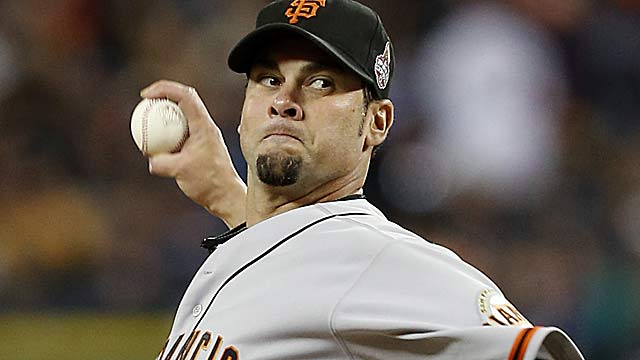 Ryan Vogelsong -- rather than Justin Verlander -- will pitch in the WBC for Team USA.
(US Presswire)
If you cared, perhaps they'd play.

If they played, perhaps you'd care.

They don't. You don't. And all we got out of Thursday's announcement of the Team USA roster was a reminder that until further notice, the World Baseball Classic remains a second-rate event.

No, that's too harsh. The WBC isn't second-rate. But it's like the forever prospect, sadly full of unrealized potential.

It could someday become a great event, a once-every-four-years highlight of the baseball calendar. For now, it's an oddity so unimportant to the average American fan that we don't mind at all that Team USA features Shane Victorino instead of Mike Trout, J.P. Arencibia rather than Buster Posey, Ryan Vogelsong rather than Justin Verlander, Derek Holland rather than David Price.

Even if the WBC isn't second-rate, this version of Team USA certainly is.

Trout's agent, Craig Landis, told the Los Angeles Times that his client "just wanted a regular spring training preparation."

You can bet the Angels are fine with that. You can bet Angels fans are fine with that.

And you can bet that American fans of other teams barely noticed.

You can't blame them. It's baseball's job to capture their imagination and appeal to their national pride.

You can't blame the players. As long as American fans believe that the regular major-league season is all that counts, we can't expect players to feel any different.

Some will choose to play. Victorino, for one, was said to be extremely enthusiastic. Some stars will play. Ryan Braun and David Wright are on the Team USA roster, as is Giancarlo Stanton.

But of the five American players who won the top BBWAA awards last season (Posey, Price, Trout, Bryce Harper and R.A. Dickey), only Dickey is on the initial Team USA roster. Of the top dozen or so American players, perhaps two or three will be in the WBC.

Yes, other teams will be better represented. Yes, in other countries the WBC is held in much higher regard. Venezuelan fans are already debating which first-round game Felix Hernandez should start, to give his team the best chance of advancing.

That's nice, but the WBC doesn't grow without American interest. The WBC might not survive without American interest.

And it's still not there.

Is the timing a problem? Of course it is, because spring training isn't an ideal time. But there is no ideal time.

If the WBC ever becomes what it should be, we'll watch it whenever they want to play it. We'd get up in the middle of the night to watch, just as soccer enthusiasts did when the World Cup was played in Korea and Japan.

This is only the third one, a friend of mine reminded me Thursday. Yes, it's only the third one, but the lack of interest and debate over the Team USA announcement reminded us that it hasn't grown one bit since the first one was held seven years ago.

I hope it does. I loved the idea. I still love the idea.

But for now, that's still all the WBC is in this country. It's a nice idea that's still all potential.

For now, we still don't care.
The lefty starter is coming off a terrible season

After acquiring Ian Kinsler and Zack Cozart in recent days, the Angels are trending upward

Cozart's coming off a big season as the Reds' shortstop
The veteran slugger spent the last eight seasons with Cleveland

The Padres may be poised for an active winter

Yes, Bryce Harper is going to make a lot of money next winter