Playoff Snapshot: Three huge AL series; Pirates slipping
Three weeks and two days until the final day of the regular season, and there are lots of teams that still have a shot at making a run to the playoffs. Let's take a quick look at where they stand.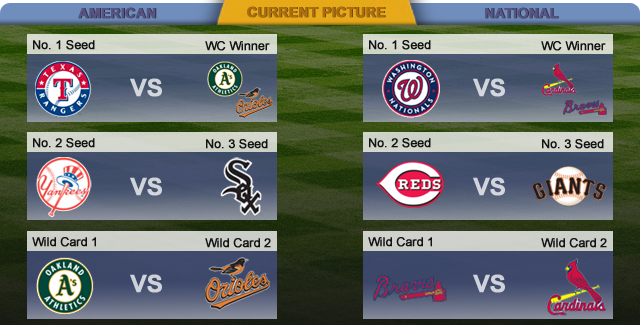 Three weeks and two days until the final day of the regular season, and there are lots of teams that still have a shot at making a run. Let's take a quick look at where we stand.
Playoff Picture page | Monday scoreboard | Three-day schedule
This week brings us some huge American League matchups, especially concerning the AL Central and both wild-card spots. Here are the five biggest series for the first half of this week (meaning they start either Monday or Tuesday).
1.Tigers at White Sox
The Tigers sputter into this series having dropped three straight. But the White Sox aren't exactly playing well, either, and hold only a two-game lead over Detroit in the Central. Being a four-game series, a lot of movement could happen here, too. The last time the two clubs met, the Tigers swept the White Sox in three games. Chris Sale vs. Justin Verlander in the series finale Thursday appears to be a beauty.
The Angels have won six straight and 11 of their last 12, a stretch that included a three-game sweep of these A's. Of course, those are the only games the A's have lost in recent memory. They took a nine-game winning streak into that Angels series and have since won three straight. And the A's still have the upper hand, holding the top wild-card spot. The Angels still trail the Orioles by a game, tied with the Rays, for the second wild-card spot. The playoff implications for this four-game series resonate.
3. Rays at Orioles
It's a three-gamer here, but the playoff implications in both the AL East and the wild-card race are huge. The O's have their eyes on the East title, trailing the Yankees by a game, but also have two clubs hot on their heels for the last wild-card spot. One of those two is the Rays, so this is obviously a pivotal series.
4. Pirates at Reds
It's getting hot in here. The Pirates just got swept by the Cubs and are now 72-67. While Pittsburgh still only trails St. Louis by 2 1/2 games for the final wild card, it's starting to become not about that anymore. The Pirates have that drought of not having a winning season since 1992 hanging over their heads, and it's getting tense. Now they'll face one of baseball's best teams in a three-game series.
Losing Sunday hurt, but the Brewers are still six games out of a playoff spot. If they want to be a serious playoff contender, this three-game series looms large. The Braves come in having won five straight and sporting a very comfortable cushion in the wild-card race.
Playoff chances, via coolstandings.com:
AL East champion
Yankees 54.8%
Rays 30.8%
Orioles 14.4%
AL Central champion
White Sox 69.9%
Tigers 30%
AL West champion
Rangers 78%
Athletics 18.6%
Angels 3.4%
AL Wild Card
Athletics 60.7%
Angels 36.3%
Rays 30%
Yankees 25.8%
Orioles 24.9%
Rangers 20.2%
Tigers 1.4%
White Sox 0.9%
NL East champion
Nationals 94.2%
Braves 5.8%
NL Central champion
Reds 98.6%
Cardinals 1.3%
Pirates 0.1%
NL West champion
Giants 95.4%
Dodgers 4.4%
Diamondbacks 0.3%
NL Wild Card
Braves 93.5%
Cardinals 65.8%
Dodgers 17.7%
Pirates 11.1%
Nationals 5.8%
Giants 2.3%
Reds 1.3%
Brewers 1%
Diamondbacks 0.8%
Phillies 0.7%
For more baseball news, rumors and analysis, follow @EyeOnBaseball on Twitter, subscribe to the RSS feed and "like" us on Facebook.
Another team rumored to be interested in Stanton has confirmed their interest

Chris Woodward has spent the last two seasons with the Dodgers

We heard about it being awful for years, but was it?
Then again, three trades in four days might be behind Jerry Dipoto's usual pace

Ohtani is arguably the best hitter and pitcher in Japan

The O's need rotation help, and Cobb is available for hire